Pentax K-1 DSLR brings full-frame sensor, a dozen lenses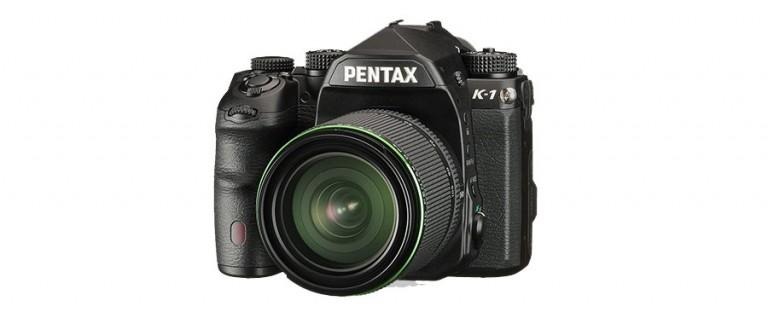 As anticipated, Ricoh has announced its new full-frame and highly anticipated K-1 DSLR. The camera, which will be shipping in April, features a 36.4-megapixel full-frame AA-filterless CMOS sensor alongside a weather-sealed body and advanced features. Ricoh says the new Pentax model "is unique in the industry" and suitable for a variety of challenging shooting conditions. The camera body will launch alongside a dozen full-frame lenses.
Ricoh boasts a large array of features with the new K-1, including things like SR II Shake Reduction featuring a five-axis system to compensate for shake at up to five exposure steps. The idea is that photographers can move and compose their shots quickly, getting that possibly split-second photo without it having a blur.
Joining that shake reduction system is an AA Filter Simulator for moving the moire effect sans an anti-aliasing filter; it also serves to boost the overall image quality, including the image sharpness. A SAFOX 12 auto-focus system joins this, bringing with it 33 auto-focus points.
Other features include a Flexible-tilt LCD on the back, the first for a DSLR from any maker, says Ricoh. There's also a Pentax Pentaprism optical viewfinder that has been newly designed; it offers 100-percent field of view coverage.
The LCD is the notable feature, though, allowing photographers to position it both horizontally and vertically for more flexible shooting arrangements. Another big 'first,' says Ricoh, is the inclusion of Operation Assist Lights, which are small white LEDs to aid the camera in low-light shooting situations; they help with changing media cards, swapping lenses, adjusting controls, and similar operations.
Finally, there's also a 'Smart Function' dial which allows users to choose commonly used functions sans going through the LCD menu, particularly useful for those who prefer the optical viewfinder.
Photographers with an existing APS-C lens set are able to use their lenses with the K-1 Crop Mode, an in-camera setting that toggles between APS-C mode and Full Frame mode (this can be used no matter which lens is attached). The auto mode will automatically detect the lens type and adjust the settings itself, as well.
Said Ricoh's president Jim Malcolm:
The K-1 is a blend of advanced, full-frame performance with the kind of features and advancements that PENTAX users have come to know and love. As a result, the K-1 creates a solution for full-frame shooters that is unique in the industry.
The Pentax K-1 body will cost $1,799.95 at launch.