Pentax announces Special Edition K2000 in White finish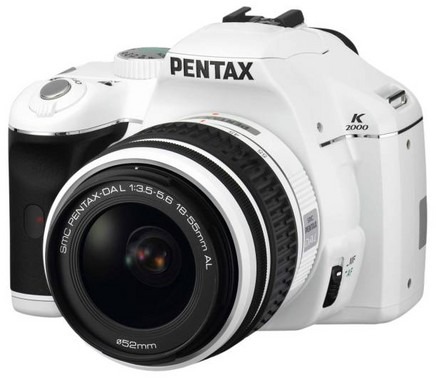 Creative or when Marketing goes wrong? Pentax shows the holiday spirit, announces a limited-release of a White Christmas version Pentax K2000. Wrapped in a brilliant white body with black trims, the K2000 kit is available in a bundle kit with two-zoom lens (Pentax DA L 18-55mm F3.5-5.6 AL and Pentax DA L 50-200mm F4-5.6 AL). Camera specification remains the same except for the body finish.
Perhaps it is stylish in the eyes of Mac lover with the usual brilliant white finish. I'm no judge of style, but don't you think that white color shows wears and tears from normal usage than the traditional black? The limited edition white Pentax K2000 kit will be available on a very limited basis in February 2009 at a price to be announced. (current production of regular K2000 with 18-55mm kit is selling at $600).