Penna is a retro Bluetooth keyboard that looks swiped from a typewriter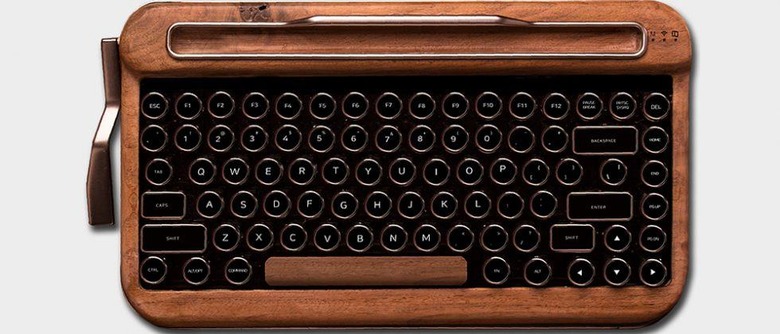 What's old is new again, or so the saying goes. Many typists and writers romanticize the classic typewriter, and that has lead to various typewriter-esque keyboards over the years. Joining them is Penna, a Bluetooth keyboard that'll appeal to even the most discerning hipster. The model looks very similar to a classic typewriter, but with some modern features including a built-in tablet stand and wireless connectivity.
Penna can be used with both tablets and desktop computers, and it is demonstrated in multiple design schemes, including a modern-looking white option and a very retro wood option. The keys vary depending on the model — the retro version has traditional circular keys, for example — while the rest of the design is fairly static. As the video below shows, there's a built-in stand for inserting a tablet.
Users are able to choose either the 4-axis diamond keycap design or the chrome keycap design; the diamond is more accurate, the company says, while the chrome is arguably more stylish. The keys feature Cherry MX switches for a loud sound and high quality, while the macro bar on the side is used to save frequently used keys or words.
The keyboard connects to systems using Bluetooth 4.2, and it can be registered with up to five devices at once. Penna supports the major operating systems, concluding iOS and Android, and runs for up to 6 months off a pair of AA batteries. Those who are particularly serious about looks can also pick up an optional pouch with a retro style and small pockets for things like pens.
Penna is being funded on the crowdfunding website Kickstarter, where the company behind it is seeking $50,000 USD in funding (with nearly double that amount raised). Those interested can get the early bird pack with a keyboard and user-specified switches/color for $89 USD. Shipping to backers is expected to start in August.
SOURCE: Kickstarter