Peloton app launched for Amazon Fire TV exclusively, for now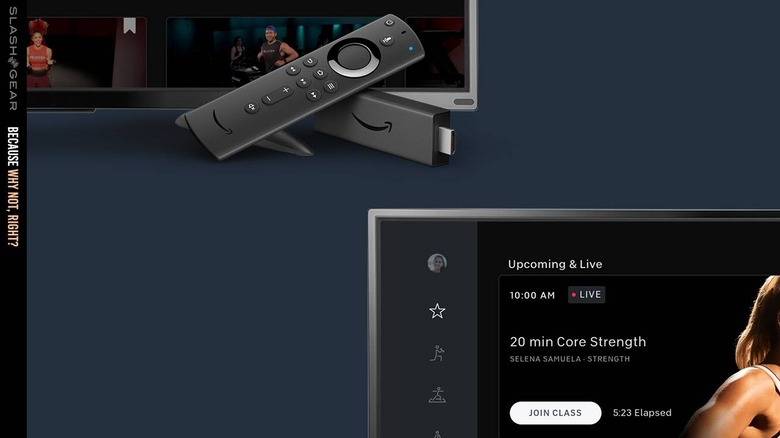 The Peloton App was given a new edition today for Amazon TV devices. This app will be released on Amazon Fire TV streaming devices and Fire TV Edition smart TVs exclusively. That's not to say that there won't ever be a Peloton app for other Android devices or Apple TV, but for now it's exclusive – it's just on Amazon Fire TV devices right out the gate.
The "Peloton App on Fire TV" aims to bring users the ability to explore "six workout disciplines." The library of fitness content included with the app includes the following main workout discipline categories: strength, yoga, meditation, stretching, bootcamp, and cardio. This is very similar to what's offered on the app for iOS and Android devices for phones and tablets.
The difference between the two major versions of the app have mostly to do with the way in which they're controlled. With the smartphone/tablet app, you're tapping with your finger on a touchscreen. With the TV app, you're using a remote control.
You can also use Alexa Voice Remote or an Echo device or anything else with Alexa (for the most part) to control Peloton functionality. At launch, users can say Alexa, open Peloton App (just like they can with any other app on a Fire device.) They could also say "Alexa, pause" or "Alexa, play" because Peloton plays workouts with controls like most any other media on an Amazon device.
For more information on Peloton, take a peek at the timeline below. It's all about exercise, and making it feel like you're doing exercise with a bunch of other people, and feeling good about that. It's really, really convincing. And don't let anyone tell you it's just like SoulCycle, because it... isn't, unless you start to compare the two like they're just a pair of bike-riding programs – which, essentially, they are.