Pelican is mostly known for its line of rugged bags and large cases meant for photography equipment and other expensive belongings that you need to protect. However, the company has released a new line of smartphone cases here at CES 2013, and we ended up getting our hands specifically on the ProGear Vault cases for the iPhone 5 and the iPad mini.
The iPhone 5 variant offers protection from "wind-driven" rain, dust, and scratching. All the ports are protected with durable flaps that let the sound out (for the speakers), but don't let dust in. The case also has insulating shock and impact protection, thanks to rubber shock absorbers inside the case.
The case is made out from a magnesium and high-grade polymer, and it's held together using military-grade hex screws at the four corners. Acoustic membranes also prevent water access through the microphone speaker ports, without hindering the audio. The buttons on the side, as well as the silent switch, was a little difficult to press, but like most cases, added that extra layer will hinder some of the button performance. What's odd about the iPhone 5 case, is that the silent switch on the case is actually a knob that you twist slightly to change it. It's an interesting concept, and one that we don't see very often.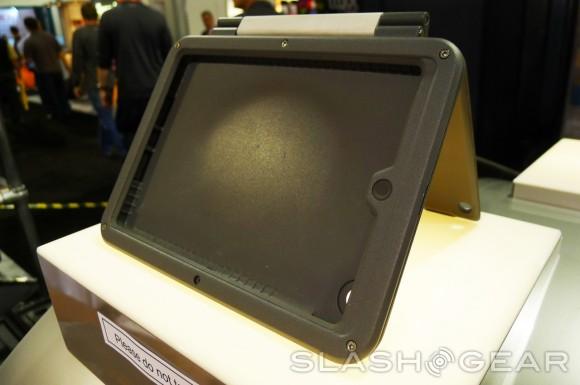 The iPad mini version offers the same protection and technology as the iPhone 5 case, and it features a flap door cover that can be opened up and used as a kickstand. The iPad mini case is actually still a very early prototype, and the cover actually didn't even close all the way when we tested it. Nonetheless, both the iPhone 5 case and the iPad mini case are planned for an April or may release. Both cases will be priced between $75 and $85 when they eventually launch.