Amid the chaos of CES 2013, we discovered that Pelican is plotting to enter the mobile case business. The company was showing off cases for the iPhone 5 and iPad, but it also had two cases for the Samsung Galaxy S III on hand and ready to show off. The cases we saw for the Galaxy S III were certainly impressive, and if you find other protective cases a bit too bulky, you might want to give these a look.
That's because Pelican's goal with these cases seems to be to protect the phone from all manner of damage while keeping the overall size down. That's especially important with the Galaxy S III, which is a pretty thin phone – having a big, bulky case attached to such a sleek phone would ruin the aesthetic, so Pelican is trying to hit the protection bullet points while keeping a thinner form factor overall.
The first case we have is the ProGear Vault Series, which actually requires you that use screws to seal your phone within the case. While that will make removing your phone a bit more difficult than your usual case that snaps together, there are benefits in that it makes the case resistant to "wind-driven rain." The case also offers protection against dust and scratches, thanks to the fact that its made from magnesium and engineering-grade polymer. This case really locks down every opening you can think of with your phone, with Pelican even placing acoustic membranes over the microphone and speaker openings to prevent water from getting in without hindering audio quality. The Vault Series, which is also shockproof from a height of 72 inches, will be releasing in April or May with a "tentative" price of $75-$80.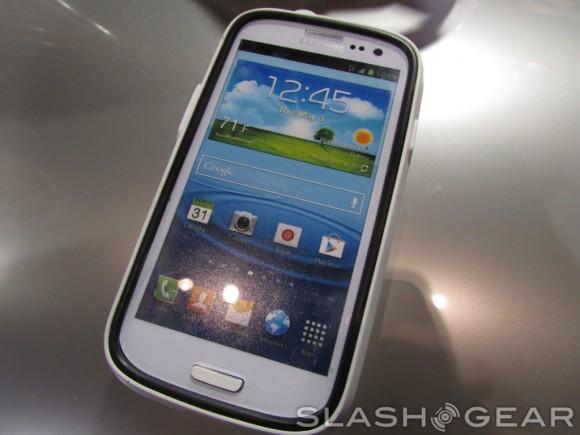 Next we have the ProGear Defender Series, which is a little more accessible for folks who want to keep their phone safe without spending an arm and a leg on a case. The Defender obviously boasts fewer features than its more expensive brother, but it's built with the same engineering-grade polymer and sports a rubber interior to make the case crushproof and shock-resistant. It also has a smooth plastic finish to make it easier to pull your out of your pocket. At the moment, Pelican is saying that the Defender series should launch in April with a price point of $35, but those could change by the time its release rolls around.
So there you have it, a duo of new cases from Pelican for your Galaxy S III. The cases seemed pretty solid when we checked them out, and the felt pretty light to boot, which means that they shouldn't add too much weight to your phone. Expect to see more of Pelican in the mobile space as moving forward, but for now, be sure to check out our CES portal for all the news you need from the show!