Pegatron Vivid netbook: Tegra, 1080p and shortcut keys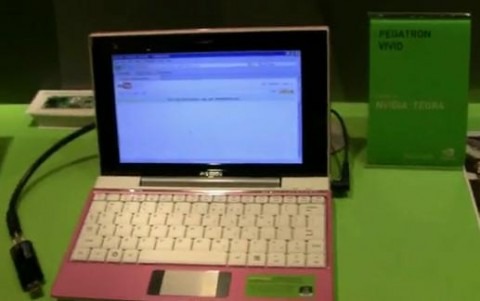 It doesn't take much to differentiate your netbook, what with most sharing the same hardware, so Pegatron have managed to surprise and delight by slapping Yahoo!, Google, MSN and Skype keys on their Vivid prototype.  To be honest, though, they didn't need to bother: all they needed to highlight was the fact that this is one of the rare machines with NVIDIA's Tegra chipset.
Video demo after the cut
Spotted at Computex a few weeks back, the Vivid also has a matte-finish display and an integrated battery.  The speakers are squeezed into a metal-mesh cylinder in the hinge, and there's the usual array of audio in/out and USB ports.
The Vivid also runs a full version of FireFox and can play YouTube video.  As well as having the long runtime promised by Tegra, it can also output 1080p through the HDMI port.  Still no word on when we can see the Pegatron Vivid on shelves; we're also hoping it'll come in a few different colors.