Pegatron Smartbook out-slims skinny Eee PC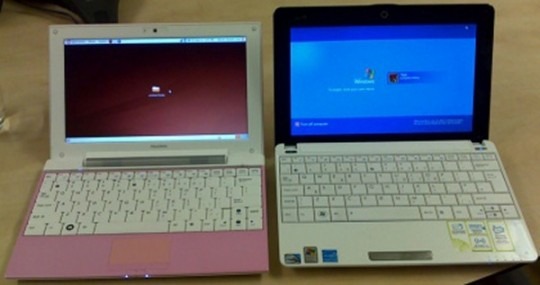 Pegatron's Smartbook prototype has made another appearance, this time squaring up to one of ASUS' Eee PC models in order to flaunt its slender chassis.  The Smartbook – here in touching, emotionally-available, secure-in-its-own-masculinity pink – is considerably thinner than a netbook (the 1005HA) that until now has helped lead the pack in terms of slimline scale, and it's not an unfair battery comparison either.  The Pegatron may only have a 2-cell, 4,400mAh battery, but thanks to the low-voltage components inside it's rated for around eight hours runtime.
It's also fanless and comes with integrated WiFi b/g and Bluetooth 2.0; there's no sign of the 3G WWAN initially lauded when the niche-within-a-niche segment was first launched.  Other connectivity for the 8.9-inch 1,024 x 600 machine includes a VGA output, two full-sized USB 2.0 ports and another micro-USB.  Storage is all on an SD card, which does put a limit on how much you can carry around, but the idea with these Smartbooks is that you rely a lot on the cloud for the bulk of your data.
ITProPortal report a few issues with the prototype – which is running Ubuntu 9.01 – but seem generally satisfied.  The aim is still to get the machines onto the market by the holidays, and if they can keep to the roughly $200 price tag first mentioned then they could steal a whole lot of netbook buyers.

[via Netbooked.net]