Peek Pronto & Google Maps For Peek In Development?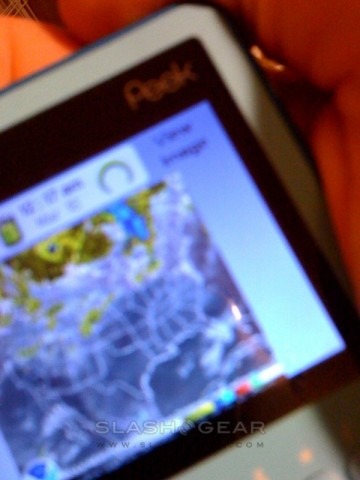 It looks as though Peek are developing Google Maps functionality, either for the existing Peek email device or for their upcoming Peek Pronto.  A SlashGear reader spotted a Peek user browsing Google Maps on the NYC subway, something the current emailer is unable to do.
Peek have also confirmed that a new device, the Peek Pronto, is in development and will soon be announced, after the teaser image in the gallery below was leaked to Engadget.  According to Peek, the device will be "much, much faster in every way possible":
"I don't have much to say, but I will give a leak away.. it is much, much faster in every way possible.

The time to open a menu on 1.08 is .09 seconds. The time to open a menu on Pronto, .04 seconds!!!!" Peek official blog
Our contacts at the company had nothing official they could tell us, but this looks like not only a new device but a new feature-set, and possibly even 3G connectivity to help achieve those all-round speed increases.  It's also unknown whether the Pronto will have GPS, or merely online map access.  What also remains to be seen is whether existing Peek owners will be able to upgrade to the Google Maps app; given that it's been spotted on what looks to be an original device, we're hoping the answer is yes.
[Thanks Rad!]