Peek Add SMS, Image Attachment Viewing, To Email Messenger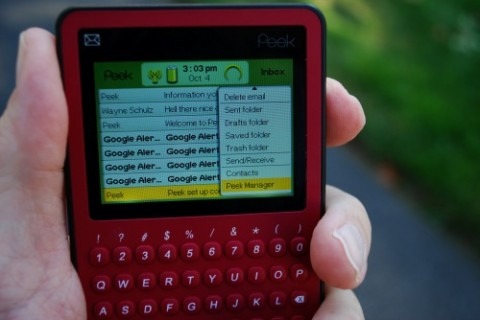 The Peek email messenger is either the pinnacle of task-specific devices, or an under-functional waste of pocket space, depending on your stance on convergence.  Reviewers seem fairly happy, but one regular critique is the device's unwavering obsession with email above all other types of messaging.  Now Peek have responded by adding SMS compatibility, together with updating the email app to support a broader range of image attachment viewing.
Rather than introduce a new app, sending an SMS uses the existing email system.  Instead of an email address, the phone number goes in the To: field; Peek's servers shuttle it out accordingly.  There are a few limitations, particularly the fact that Sprint MVNOs don't seem to be receiving Peek text messages, but a workaround with Virgin Mobile could be to add "@vmobl.com" to the end of the recipient's phone number.
Image viewing, meanwhile, now includes "almost anything related to images" including bmp, gif, png and others.  That's in addition to jpeg files, which Peek already supported.  No updated software is required on the Peek device itself, the new features should just work.
You can also pick up a new Peek handheld for $79, down from $99.
[via jkOnTheRun]