Pebble Core and Amazon's Alexa become best pals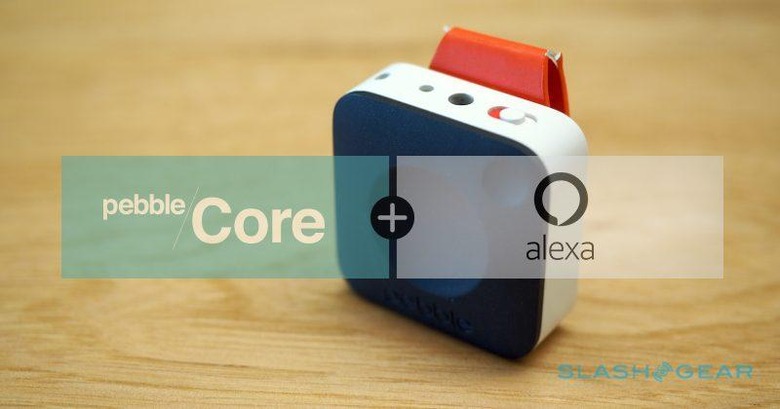 Those who have been underestimating or even simply ignoring Amazon's conquest into the voice-controlled personal assistant space should probably start taking a second look. Alexa is starting to pop up everywhere! While she/it still mostly remains inside Amazon's devices, like the Echo or Fire TV, it is starting to expand to other third-party products and also expand its connection with other platforms. The later to join that small but growing club is Pebble, whose admittedly intriguing Pebble Core will feature Alexa within it when it launches.
Pebble Core is a curious little device that you wouldn't have expected from the company. Still marketed as a wearable, it is more a box than a strap or even a pin form that most wearable come in. Primarily intended to be a music and tracking companion while you get fit, Pebble made the Core open enough to be easily modified and customized with programs, making it one of the very few truly hackable wearable in the market.
With the integration of Amazon Alexa, that hackability rises to a new level. For one, Alexa itself already connects to so many smart appliances and services that extends the Pebble Core's use to inside the home and after exercise is long over. Plus, Alexa also connects to IFTTT, exponentially increasing the number of things you can tell her to do via the Pebble Core. Here are some of the things that Pebble suggests you can do:
• Play songs, artists, and playlists from Amazon Prime Music, iHeartRadio, and more.

• Brief you with news headlines from USA Today, The Washington Post, or The Huffington Post.

• Review your Pebble Health summary for the day, like heart rate, step count, and calories burned.

• Order pizzas for the gang on game day.

• Shop for gifts and necessities on Amazon.

• Get weather and traffic updates.

• Set a timer for a set of side planks.

• Control smart home devices like lights, thermostats, locks, and more.

• Tell you a joke.

• Answer almost any question you can think of—from the nutritional information of certain foods to movie facts on IMDB.
It's going to take a while, however, before you enjoy such benefits. Pebble Core is still under a Kickstarter campaign, together with the Pebble 2 and Pebble Time 2, and won't ship until early 2017.
SOURCE: Pebble