PCI GW-MF54G2 Multi-Function Mini Router - Tiny Like Tim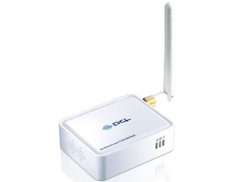 This mini router is nearly pocket sized and has a wireless antenna, presumably a plug for some sort of power source and then one Ethernet port, that's it. It keeps it simple in an effort to keep it small.
The idea is that you can feasibly pack this thing with you inside your laptop bag and then connect this to the Ethernet connection in your hotel room or at the office or at the convention center and set up your own WiFi b/g wireless network. Everything is managed from the web interface of the router which would also be where you'd set up your connection.
At 75x60x23 millimeters and with a weight of 60 grams in should be small and easy enough to take wherever you need it. Then again, if you have an entirely wireless network at home and want something small so you can hide it away, it could work just as well as a permanent solution too. This would be perfect for use with an iPod Touch or iPhone so you aren't stuck without a connection on the iPod and so you don't have to rely on slow EDGE on the iPhone.
[via Ubergizmo]