PC Microworks' Edge gaming laptop 'most powerful' in its class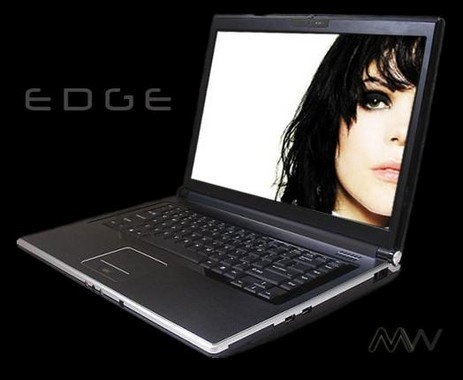 Brave words from notebook manufacturer PC Microworks today: they're calling their new Edge model "the most powerful 15.4-inch notebook in the world."  At first glance, it's certainly got some hefty specs; Intel Montevina Dual and Quad Core CPUs, 8GB of RAM and up to 4TB of storage. There's also NVIDIA's Geforce 9800M GTX graphics driving a choice of WSXGA+ 1680x1050 or WUXGA 1920x1200 widescreen 1080p panels.
The processor is actually a Montevina 45nm Core 2 Extreme QX9300 running at 2.8GHz.  PC Microworks also offer a Blu-ray drive as an option.  Battery life is a mere 2hrs, unsurprising when you consider the specifications.
As for connectivity, PC Microworks throw draft-N WiFi, Bluetooth, EV-DO and HSDPA WWAN and (optional) GPS and WiMAX.  There are also HDMI, DVI, eSATA and SPDIF ports, together with four USB, Firewire and an ExpressCard slot.  A fingerprint scanner means that, if someone should steal your Edge, at least they can't access your data (though frankly I'd expect you'd be too busy weeping at the loss of your notebook).
Price, for a model with HSDPA, 320GB of storage (running at 7,200rpm; a 64GB SSD is an option), GPS and Blu-ray, comes to a massive $6400.  Obviously you can claw that down slightly if you pare down the features.
[via iTech News Net]