PC Market Not Looking Pretty for Q1 2011

Research firms Gartner and IDC have come out with their quarterly look at the PC market in the US and worldwide. With some exceptions, the results are not good. Only three companies, Lenovo, Apple, and to a lesser extent, Toshiba, posted gains for PC sales in Q1. The two reports differ on how large the decline in the total market is, and also on the cause. Is it tablets? Lack of innovation in PCs? Or just a lingering hangover from big Q4 spending? See all the numbers after the cut.
The contraction in the PC market is the first in six quarters, and IDC and Gartner differ on the size of the contraction. IDC puts it at 3.2 percent since Q1 2010, and Gartner is more conservative at 1.1 percent. The first quarter of the year can be a slow time for PC sales in any case, since consumers have already blown all their cash on electronics for Christmas presents, when retailers are offering mega deals. And on the business side, some companies use up extra money in their budget before the end of the year giving employees new PCs.
But there are other factors at work here. For one, the iPad 2 and other tablets have taken the spotlight off PCs, even if they haven't replaced them. Possibly many people spent their money on a new tablet and decided to stick it out with their old PC for a bit longer. At least, that is what Mikako Kitagawa, principal analyst at Gartner thinks: "With the launch of the iPad 2 in February, more consumers either switched to buying an alternative device, or simply held back from buying PCs. We're investigating whether this trend is likely to have a long-term effect on the PC market." That does seem likely.
But according to Bob O'Donnell, Vice President for Clients and Displays at IDC, "Slower than expected commercial growth in the first quarter failed to offset the ongoing challenges in the consumer market," he said in a statement. "While it's tempting to blame the decline completely on the growth of media tablets, we believe other factors, including extended PC lifetimes and the lack of compelling new PC experiences, played equally significant roles."
In the US, IDC says shipments declined by 10%, while Gartner says 6%. Shipments also contracted in Europe and Japan. In Asia though, shipments increased by 5.6% (IDC) or 4.1% (Gartner).
Here are IDC's numbers for the worldwide market: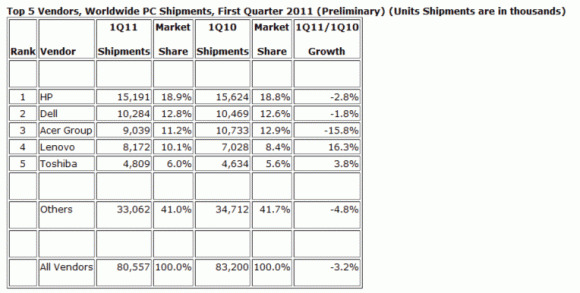 IDC sets the worldwide demand for PCs at 80.6 million units, and HP led the pack at 15.2 million, followed by Dell, Acer, Lenovo, and Toshiba. Lenovo is the only one on that list that saw an increase, 16%, which is the exact number of the decline in Acer's shipments.
Gartner's numbers for the worldwide market: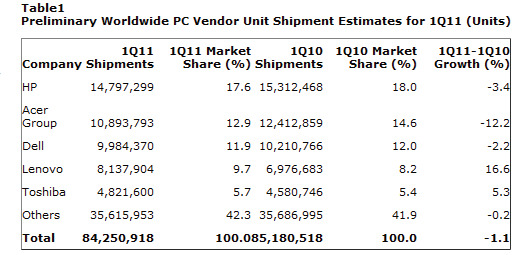 Gartner says the worldwide market is at 84.2 million units, with HP leading with 14.8 million, then Acer, Dell, Lenovo, and Toshiba.
In the US, the numbers are pretty similar, at 16.1 million units. The lineup is HP at 4.3 million, Dell at 3.7 million, Toshiba at 1.6 million, Apple at 1.4 million and Acer at 1.3 million. Acer got spanked with a decline in shipments of 42 percent. Apple posted a gain of 9.6 percent, and Toshiba saw a gain of 10.4 percent.
See the full Gartner and IDC reports, and draw your own conclusions. What do you think is the culprit behind the declining PC market?
[via All Things Digital]