PBS Plug & Play is a toy-shaped HDMI dongle for kids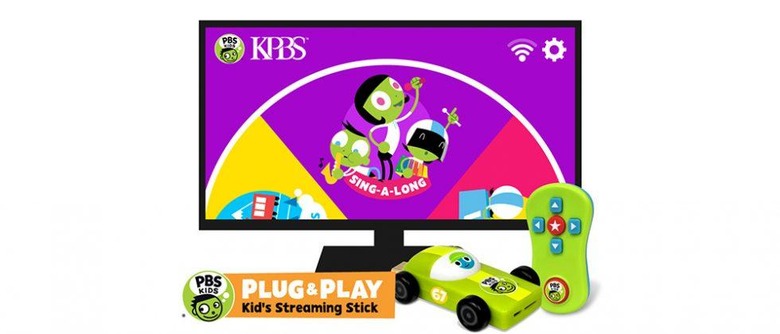 PBS has announced a new dongle that looks like a toy car and works like a streaming stick: the PBS Kids Plug & Play. The device works, more or less, like a Fire TV Stick or a Roku Stick in the sense that you plug it into a television and then use it to access streaming media. The big difference here is that the stick does not require a WiFi connection, making it a viable option for anyone, including families that don't have Internet access.
PBS provides educational kids content online for free through its website, but sometimes a television is the most convenient place to watch such shows. This is made possible with the Plug & Play, which contains more than 100 hours of the network's sing-alongs, videos, games, and some other things. The games include Sound Box, which teaches about music, Rail Riders where kids find treasures, and Road Trip Adventure where kids learn about shapes and colors.
As well, the new PBS streaming stick features constant access to a PBS live stream and channel for additional content. The platform will likewise be updated with new content and also special seasonal content at various times throughout the year. There's 16GB of internal memory overall, as well as a gigabyte of RAM and an SD card slot.
Content is controlled with a related physical remote which is also designed to look like a toy and is intended for use by kids. The entire package was made in partnership with Ematic and will be available to purchase in Walmart stores starting on May 24 for $49.99 USD. If you don't want to wait, the Plug & Play can be ordered from Walmart.com now.
SOURCE: PBS