PBS enters electronics space with Playtime Pad tablet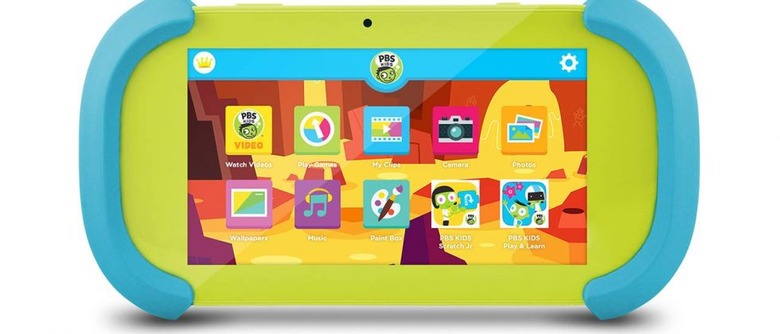 PBS KIDS might have solved the dilemma of putting your child in front of a screen too often with its new Playtime Pad. Announced today, the Playtime Pad is the result of a partnership with Ematic, which will be producing the device. Like most kid-friendly tablets, the Playtime Pad ships with parental controls and a host of educational apps for kids to use.
The main advantage of the Playtime Pad, of course, is the PBS KIDS branding. This tablet ships with the PBS KIDS video app, which offers 100 hours of content, along with 120 video clips, songs, and music videos from the network pre-loaded onto the device. On top of that, there are 25 PBS KIDS educational games loaded on the tablet.
The Playtime Pads is kidSAFE Coppa-certified, and along with that certification comes a range of parental controls. These controls allow parents to customize each individual tablet for a specific child – perfect for households that have multiple kids and therefore need to buy multiple Playtime Pads. The controls also feature a play timer and allow parents to set restrictions on what kids can access.
As you can see from the image, the tablet comes with a rather thick bumper that should defend against drops, though PBS says that the tablet itself is built with durability in mind. PBS KIDS also mentions in its announcement that it has plans to launch a 24-hour channel and livestream that will be available across a variety of platforms including the Playtime Pad.
All in all, with the number of apps PBS KIDS already has on offer, jumping to hardware seemed like the next logical step. There are a lot of tablets aimed at kids out there, but there aren't many that have a name like PBS KIDS behind it. With that in mind, that could work to the company's advantage.
If you're interested in picking up a Playtime Pad, they'll be available starting on November 6 from Best Buy, Walmart, and the PBS KIDS' online store. The Playtime Pad will run $79.99, and PBS says that 100% of the net proceeds received from sales of the device will "support PBS KIDS' mission to empower children to succeed in school and in life."