PayPal Unveils NFC Money Transfers For Android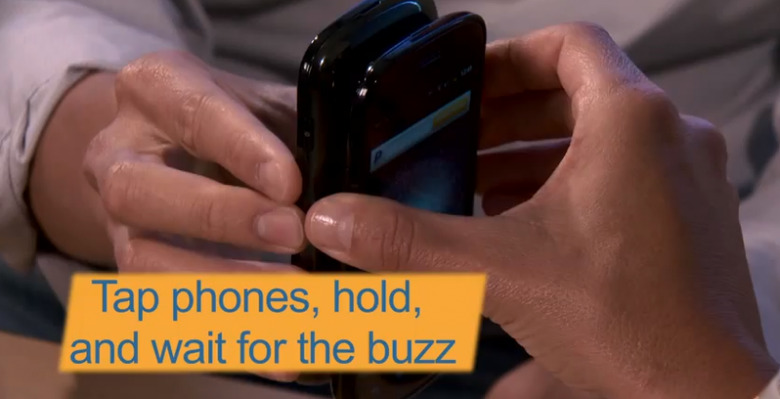 PayPal today unveiled their first NFC-based mobile payment solution for Android devices. It's not quite a full on payment system that you can use to buy groceries or pick up coffee, but it does make peer to peer transactions much simpler. It allows you to easily transfer money to another person by tapping your phones together, assuming you both own an NFC-enabled Android device.
The transfer process requires both sides to open the PayPal widget from where each person must request to either send or receive payment. Once the requests are sent, then you simply hold both phones together until they buzz*, at which point you enter your PayPal password to confirm the transfer. The transaction uses an encrypted token between the two handsets without using the NFC secure element where secure data such as credit card information is stored.
*The buzz, as you'll see in the video below, is haptic feedback that makes the phone literally shake. This was done in response to the fact that NFC functionality, by its nature, has no response other than the one(s) developers add. Hence: the buzz!
The PayPal NFC Android widget only works on the Google Nexus S for now, since it's the only NFC-enabled Android device currently on the market. The app should also be compatible with future NFC phones as it is built on Google's Android NFC SDK.
This is an interesting development considering PayPal sued Google immediately after it announced the NFC-based Google Wallet system back in May. PayPal had sued two ex employees as well for having stolen mobile payment trade secrets that may have been used in Google Wallet. It's not certain how that case has panned out, but PayPal is finally now ramping up their own NFC-based solution, and we're to understand that they're more than excited to offer this payment solution to Android users exclusively as they feel the Android community to be the best for just such a launch. Watch the video below for a demo of the PayPal NFC money transfer process.