PayPal Here demonstrated for mobile payments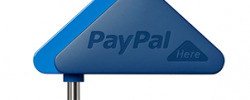 This week the folks at PayPal have revealed a mobile payment project aiming to take on the already popular Square platform, working with a triangular piece of hardware that plugs into your iPhone. This new project is set to be titled "PayPal Here" and will be plugging in to your headphone jacks soon, complete with a "wing" hinge which keeps the hardware steady as you swipe your credit card through. The app that goes with the hardware goes by the name PayPal Here as well, these two pieces of the equation adding up to your ability to take payments from anyone with a credit card anywhere you like.
PayPal Here will work both as a credit card swiping combination and has a "Scan Card" feature which will allow you to take payments by scanning a credit card's number if the dongle is not something you've got handy. Once you've scanned a card in one way or another, you'll need only to type in the user's Zip code and CVV and you'll instantly be in the money. This new app also allows users to accept checks, and debit cards as well.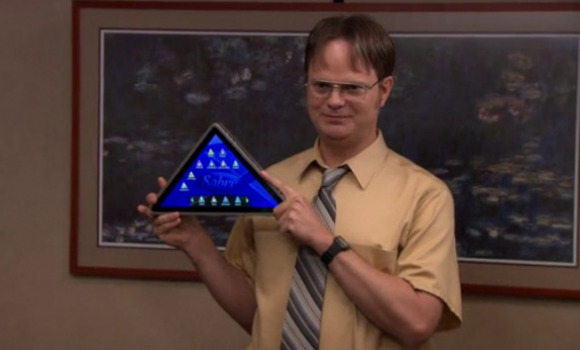 Above: Dwight Schrute demonstrates the power of the Pyramid
As PayPal notes, this app (and the dongle if you do so choose to use it) will allow you to work with "any form of payment short of barter." The app will allow small business owners to work with inventory, send invoices, accept payments, and charge money to clients. Both the card reader dongle and the app itself are encrypted so that you'll be able to stay secure even if you lose them, and the whole system will be going live this week.
PayPal is planning on giving out both the dongle and the app for free, but will be charging a flat rate of 2.7 percent for each transaction. PayPal will also have merchants working with its free debit card if they do so choose, this giving them 1 percent cash back with each transaction, this effectively making their rate 1.7 percent. This launch begins in the USA, Hong Kong, and Australia today, the rest of the world getting in on the fun "soon."