PayPal Android and iOS apps score major update with shop finder and redesign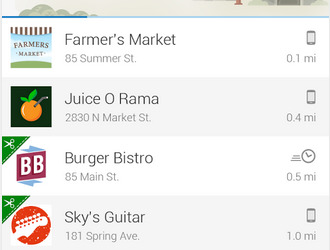 PayPal has rolled out a major update for both its Android and its iOS apps, bringing with the latest version a newly redesigned interface and some new features. Though multiple notable features have been added, perhaps the most important among them for users is the inclusion of "Shop," a tabbed section that details restaurants and stores that accept payments from the online service.
The Shop, which you can see in the image above, allows for both searching and mapping locations, each location in the list being tagged with an approximate distance from the user and some other pertinent details, such as its address. Users can check into a shop from the mobile app to pay for goods (assuming the system is supported).
This is part of a larger digital wallet movement, and PayPal advises that it is "just getting started here, so look out for more locations coming soon." The Shop can be accessed by swiping to the right, pulling up the tabs that contain the usual Activity/Transfer/Settings tabs, plus the new new Shop and Wallet tab options.
Also added into the mix is the ability to order ahead at certain restaurants from the app, which provides users with a full menu and the ability to tweak food orders. The order can then be paid for directly from the app as well, and the user can skip the line when they arrive to go straight for their goods. Presently, says PayPal, this feature is supported at approximately 1000 cafes and restaurants.
You can check out the full run down of new features for yourself by updating the app or heading over to your respective app store, where both are now available. Have you already given the digital wallet a run at your local cafe? Let us know how it worked out for you!
SOURCE: Tech Crunch