Pavilion spiraled wireless speakers double as art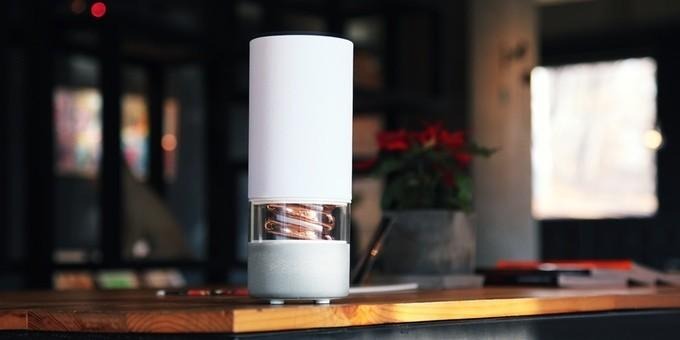 Hult Design has introduced its beautiful pillar-style Bluetooth speaker Pavilion. Unlike most other speakers, Pavilion in no way resembles a speaker; rather, it looks like a piece of art one might have sitting atop a bookcase or fireplace. When in use, though, Pavilion pumps out audio with what the maker says is "boomy bass" and "bright treble."
Pavilion features a concrete bass above which lies a copper d-spiral that turns 360-degrees around the speaker. The spiral is visible through a clear section in the overall design, while the upper portion holds the speaker and control panel. Thanks to the heavy base, the speakers remains firm and produces audio sans vibrations.
That spiral is for more than just looks; according to Hult, the "D-Spiral Acoustic" serves to increase sound frequencies so they produce a warm and clean-sounding bass. The audio ultimately comes from a 20 watt full range speaker. Other features include Bluetooth connectivity, a rechargeable battery, touch control, and support for stereo playback by connecting a pair of the speakers.
Hult Design, the company behind the speaker, is seeking $70,000 USD on Kickstarter where it has so far raised about $23,000 USD with 27 days remaining. The early bird units are available for $229 USD, which will get backers a single Pavilion speaker in black or white. Shipping is estimated to start in May of next year and will be available globally.
SOURCE: Kickstarter