Patriot unveils Xporter Rage flash drive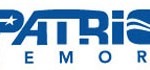 Patriot has announced a new addition to its line of Xporter USB flash drives. The new addition is called the Rage and is designed specifically for high performance. The Rage line is available in multiple capacities from 8GB to 64GB.
The Rage drives are quad-channel devices with read speed of up to 27MB/s and write speeds of up to 25MB/s. The housing of the drive is lightly coated with rubber and the housing has no cap.
The drive has a retractable USB connector for convenience. Patriot offers no mention of the price of the Rage or when it will ship.