Patriot offers world's fastest DDR 3 RAM with Viper II Sector 5 2500MHz kit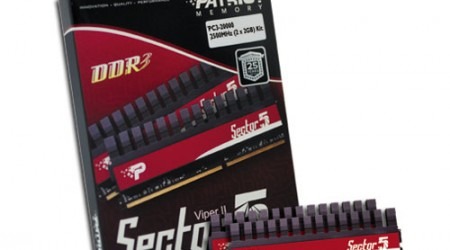 RAM doesn't mean much to the masses as long as the computer has enough to run iTunes and Farmville at the same time. When it comes to gamers and enthusiasts though, the RAM in their machines is just as important as the CPU. Back in February Patriot unveiled a new enthusiast memory product called the Viper II Sector 5 kit.
At the time the kit was able to run at 2250MHz. Patriot is back with a new Viper II Sector 5 offering that it claims to be the world's fastest DDR3 memory with a clock speed of 2500MHz. The RAM kit is for Intel P55 platform boards and has timings of 9-11-9-27.
Patriot uses hand-selected modules with aluminum heat spreaders to hit the high frequencies. Three kits will be offered in the series with the 2500MHz kit at the top. A 2400MHz kit will be offered with the same timings along with the 2133MHz with 9-9-9-27 timings. All of the kits include a pair of 2GB modules.