Patriot Convoy series storage devices break cover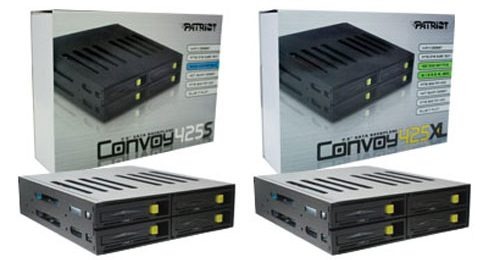 Patriot is known for its memory products for computer enthusiasts and for other storage devices. The company has now unveiled a new storage device called the Convoy series that uses 2.5-inch HDDs and fits into a 5.25-inch drive bay on a desktop computer.
The Convoy series includes the Patriot Convoy 425S and the Convoy 425XL. The devices can hold up to four 2.5-inch HDDs and offer RAID protection for data in the XL version. Both of the enclosures have an aluminum housing and a pair of 40mm fans to keep the drives cool. The drive trays are hot swappable as well.
The Convoy family can fit any 2.5-inch SSD or HDD that is up to 12.5mm in height. The difference in the two versions is that the 425XL supports RAID functionality with 0, 1, 3, 5, 10 JBOD support while the 425S has no RAID support.