Patient has 75% of skull replaced with 3D-printed implant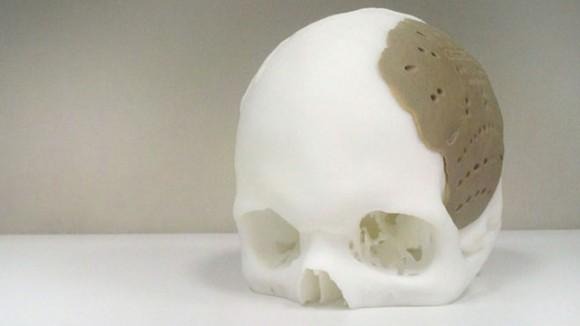 Earlier this week, a surgical procedure saw the first-ever patient to receive a partial skull transplant using 3D-printed materials. A whopping 75% of the man's skill was replaced with the polyetherketoneketone material. However, it's not said what part of the skull was replaced, nor if the 75% accounts for just the top of head.
The photo above is a good representation of what the 3D-printed material looks like and how it fits on the skull. The material has specially-designed textures and holes in it to encourage the growth of cells and bone, and not result as a hindrance to the body, but rather become part of the skull just like ordinary bone. In other words, it's more than just a simple piece of hard plastic.
Oxford Performance Materials is the company behind these 3D-printed implants, and they're predicting that this practice will take off shortly, and it could open the door for around 500 patients per month who need bone transplants. The US Food and Drug Administration granted approval of the 3D-printed implant on February 18, and the company is now looking to spread the technology.
The company says that it can produce an implant within two weeks of obtaining 3D scans of the affected area needing transplanted, and recipients can range from injured construction workers to wounded soldiers, according to Oxford Performance Materials. There are no other details as far as further transplants with the new technology, but we should be hearing more about it sooner or later.
[via News]