Path iPhone update live, "fixes" privacy issue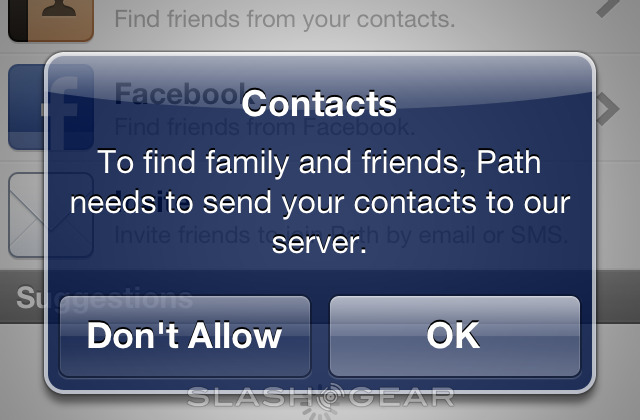 Today there's been a bit of controversy surrounding the Path app for iPhone and how it gains access to your contacts without asking you permission to do so. While its customary for such requests to go down with most major apps and is required by every single app in, for example, the Android Marketplace, it's only today become an issue for Path developers. Per the public's request though, and not a moment too soon, Path's Dave Morin has let loose an apology as well as an update to the app live in the iTunes App Store now.
One of the major investors in Path mister Michael Arrington earlier today suggested that the correct way to move forward after this PR debacle fell was to first off delete all the information Path had collected. Path had collected the contacts from every person they had open their app – just so you know. The note left by David Morin today puts it all in perspective and makes it clear that the creators of Path take the whole situation very seriously:
As our mission is to build the world's first personal network, a trusted place for you to journal and share life with close friends and family, we take the storage and transmission of your personal information very, very seriously.

Through the feedback we've received from all of you, we now understand that the way we had designed our 'Add Friends' feature was wrong. We are deeply sorry if you were uncomfortable with how our application used your phone contacts.
As for how exactly they were wrong and how the app did really use your contacts, Morin made such things clear as well:
In the interest of complete transparency we want to clarify that the use of this information is limited to improving the quality of friend suggestions when you use the 'Add Friends' feature and to notify you when one of your contacts joins Path–nothing else. We always transmit this and any other information you share on Path to our servers over an encrypted connection. It is also stored securely on our servers using industry standard firewall technology.
And of course the most important part did come with the update, the assurance that all the data they'd already collected has been deleted – we hope!
We believe you should have control when it comes to sharing your personal information. We also believe that actions speak louder than words. So, as a clear signal of our commitment to your privacy, we've deleted the entire collection of user uploaded contact information from our servers. Your trust matters to us and we want you to feel completely in control of your information on Path.
The newest version of Path, version 2.0.6 released today, will have you prompt in and out of sharing your phones contacts with Path's servers. The download is still free, and will still act the same outside this extra little prompt. All for your privacy!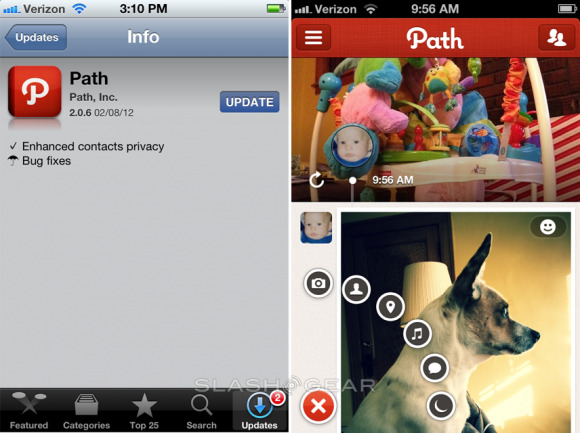 [via Path]