Parrot's new prosumer drone division will kick off with three new models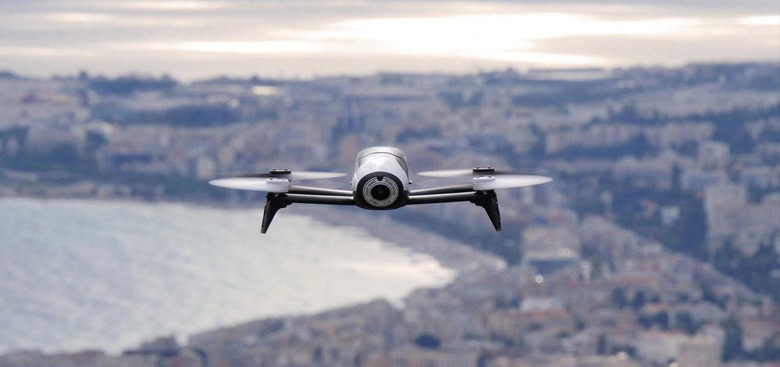 Back in January, we reported that French drone company Parrot planned to restructure the company and that, as a result, it would be cutting about 290 jobs. Now, nearly half a year later, we're seeing the fruits of that effort: the company is launching a new division that will focus on so-called 'prosumer'-tier drones — models that appeal to hobbyists and amateurs who want more than a cheap toy but less than a five-figure pro-tier model. The drones produced in this segment will fall into the $1,000 to $5,000 range and will be targeted at various industries.
This new prosumer division will be called 'Parrot Professional,' according to re/code, and it is being targeted at the agricultural and construction industries. The company's products will apparently be designed in such a way that they can meet high-end needs but without requiring a pilot to operate the drone. We've seen instances of drones of this caliber being used for things like insurance inspections, land surveillance, scientific projects, and more.
Parrot already offers a bunch of relatively inexpensive drones targeted at the average consumer, some that feature cameras and others with traditional quadcopter designs. Despite the products, Parrot struggled to perform well and by the end of 2016 had witnessed a big drop in sales. Had Parrot continued on with a strong focus on its consumer drones segment, it is unlikely the company would have managed to reverse its fortunes.
It's not hard to see why Parrot had trouble staying afloat with consumer-tier drones — it is competing with a growing number of companies launching their own competing products. Some companies, such as DJI, are established in the market while others, like GoPro, are just getting started. Regardless, competition remains fierce and the relatively low selling points of these drones weren't helping matters.
This upcoming June, buyers will be able to get two of three new models, the Bebop-Pro 3D and the Disco-Pro AG. The Bebop-Pro 3D will cost $1,100 USD and the Disco-Pro AG will cost $4,500...it isn't clear how much the Thermal version of the upcoming Bebop model will cost, and Parrot has remained quiet about its planned launch date. We do know, however, that it will feature a thermal camera.
SOURCE: Re/code