Parrot's Bebop Drone finally takes to the skies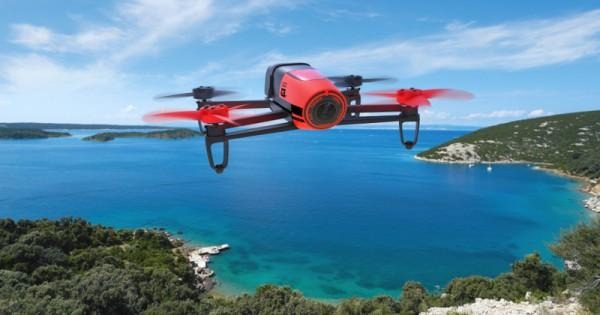 It's been a while since we've seen a brand new major product from personal drone pioneer Parrot, but today it is coming out with a big splash. Though it has three new products (OK, maybe two and a half) debuting today, the star of the show is, of course, the new Bebop drone that is smarter, better, but not bigger than its predecessor. There's also the Skycontroller that not only gives you a more direct feel for controlling the drone but also lets you see it from a first person perspective.
The AR Drone is probably one of the more popular drones for personal use that has really brought attention to the market of late. But while some of its competitors, like DJI, have been launching drones left and right, parrot was taking a "slowly but surely" path in perfecting its craft. The last camdera drone to come out of the woodwork was the AR Drone 2 in 2012 but we did get our hands dirty with an early version of the Bebop back in May. Half a year later, Parrot is ready to let the rest of the world get their hands on its latest masterpiece and the world might be in for a treat.
Unlike its industry rivals, Parrot doesn't equip its drones with moving camera parts, which gives the drone and the camera a more unified and reinforced design. Since it doesn't rely on hardware to stabilize the camera, it resorts to software tricks instead. For one, it has developed algorithms to provide 3-axis image stabilization, fixing the angle of the camera view no matter how the drone is inclined or how shaky its movements. Images are also automatically digitally edited quickly via Bebop's Parrot P7 Dual core processor. The camera itself is also notable. For one, it now has 14 megapixel sensor capable of Full HD video recording. For another, it employs a fisheye lens to let the user pan around a frame in 180 degrees without having to move the drone. The drone is equipped with a variety of sensors, including accelerometer, gyroscope, magnetometer, ultrasound, and vertical camera to help stabilize its flight and position.
Out of the box, the Bebop Drone is controlled by a smartphone or tablet running the new FreeFlight 3.0 app, available for iOS, Android, and Windows Phone. It functions as you would expect, with the left controls acting as virtual joystick for altitude and rotation whlie the right side is relegated to tilting the front camera. The phone or tablet's own gyroscope acts as tilting controls for the drone itself.
But for the more action-oriented controllers, there is also a new Skycontroller that comes as an optional bundle with the Bebop Drone, giving you more tactile controls over the drone. While the Skycontroller itself runs Android 4.2 and FreeFlight 3.0 inside so that you can start using it without a smartphone or tablet, you can still dock your mobile device to give you visual feedback on your drone's camera. What's more, it has an HDMI port where you can hook in an Oculus Rift for an even more immersive feeling. The Skycontroller also has a WiFi amplifier to push the wireless range to 2 km.
The Parrot Bebop Drone will be available in color choices of blue, red, and yellow starting December from Apple and Best Buy with a price tag of $499. The Bebop Drone plus Skycontroller bundle, on the other hand, will cost you $899. The FreeFlight 3.0 app is, of course, free on iTunes App Store and Google Play Store.