Parrot Zikmu speakers review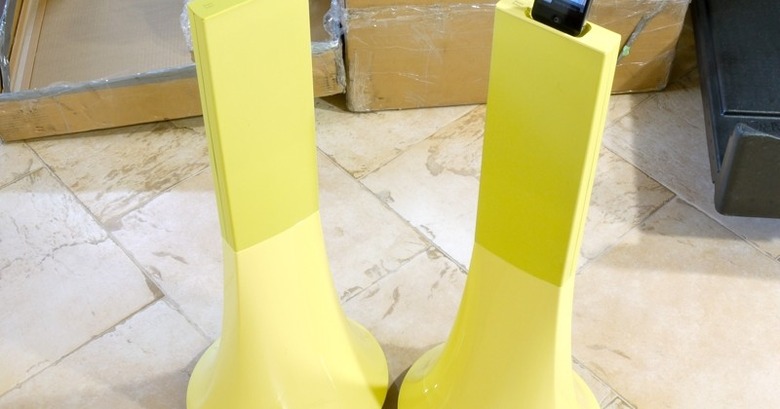 If you want to stand out in the overcrowded iPhone/iPod speaker market you can promise high quality, tempt with distinctive design, throw in features or simply slash the price right down. Parrot's Zikmu iPod speakers certainly don't fall into that last category, at $1,600 a pair, but the French company claims the eye-catching Phillipe Starck designed totems slot neatly into the others. Are these "Lime Sorbet" monsters really the best speakers to pair with your PMP? Check out the full SlashGear review after the cut.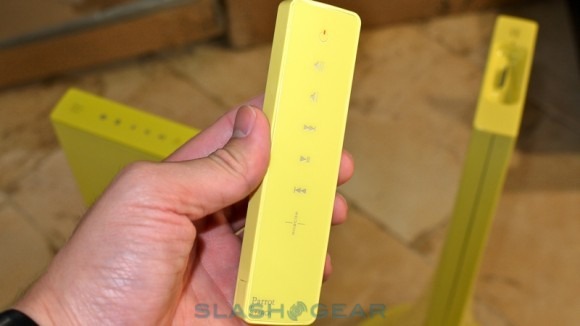 The Zikmu design has been around for a while now – Parrot first unveiled them at the end of 2008, in fact – but the most recent update added a choice of colors and made their software smarter. Each speaker stands almost 30-inches high and weighs 17lbs; in addition to the original black there's now pearl grey, white and the optically searing lime sorbet of our review units. A matching remote control offers the basics – power, volume, play/pause, and track skipping and source selection – and uses RF not infrared for non-line-of-sight operation.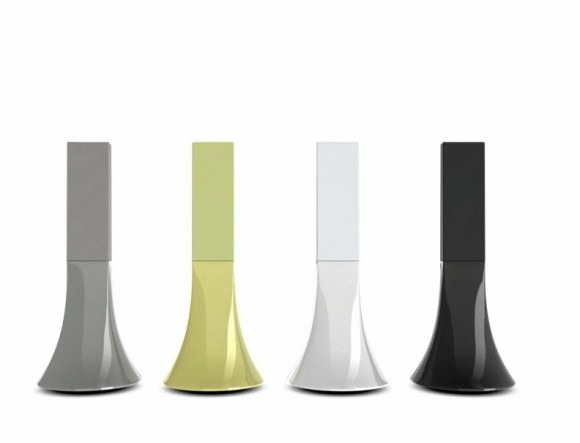 Although they're billed as perfect partners for your iPod, there are actually quite a few ways to play music through the Zikmu. One of the speakers has an iPod/iPhone dock on top, for direct connection (and recharging) of an Apple PMP, but there's also an RCA analog input for other sources. However there's also WiFi b/g and Bluetooth 2.1+EDR with A2DP and AVRCP profile support.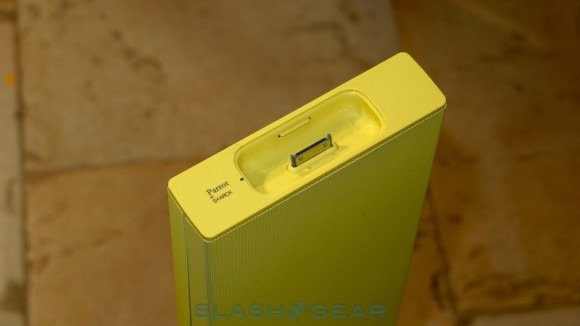 The left and right speakers are connected wirelessly, so there's no cable joining the two (each gets its own power supply), and you can pair your iPod touch, iPhone, or any other Bluetooth smartphone and stream audio through the speakers. Alternatively, using the free PC and Mac software, you can stream audio via WiFi (or, indeed, via Bluetooth) to the Zikmu. With that software you can also manage the audio profile, with a multi-band equalizer, various presets, room compensation and dynamic loudness, which adjusts settings according to whatever audio, is currently playing. You can also flip the left and right channels around, should you move the Zikmu.
Parrot has used a combination of NXT flat panel speakers, a down-facing woofer and a bass-reflex system in each Zikmu unit, which they claim adds up to 360-degree sound. In fact, they recommend you place them near the middle of the room rather than banish them to the corners. There's certainly a broader sound-stage than you get with regular speakers, and they can crank up to loud levels, but there's an unfortunate lack of precision along with it.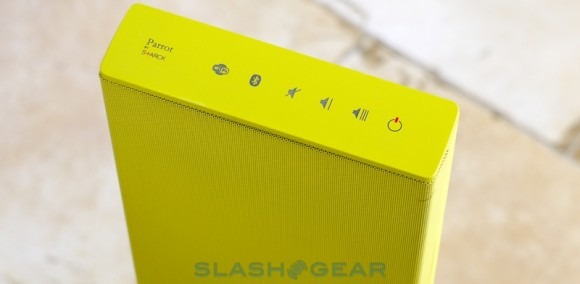 Partly that seems down to patchy balance between the NXT speakers, which can overemphasize the top end of tracks, and the sometimes-boomy woofer. Some careful tweaking of the equalizer levels things out, but we do wonder if a wireless subwoofer – turning the Zikmu into a 2.1 system – would allow the woofer to do better work in the mid-range. Obviously the quality of your digital audio makes a big difference too: feed the Parrots with low-bitrate files and you'll end up with a crunchy, underwhelming mess.
Parrot's main problem is that, for the $1,600 of the Zikmu pair, you can pick up a very strong – but less visually distinctive – amp, iPod dock and speakers that will certainly best them on audio performance. That setup will probably lack the wireless connectivity, however, and it certainly won't be the talking point that the Zikmu so obviously is. If you can justify a fair chunk of your budget going on aesthetics, and you like the Starck style, the Parrot Zikmu speakers are unusually appealing. [Parrot Zikmu homepage]