Parrot adds Mambo and Swing minidrones to its lineup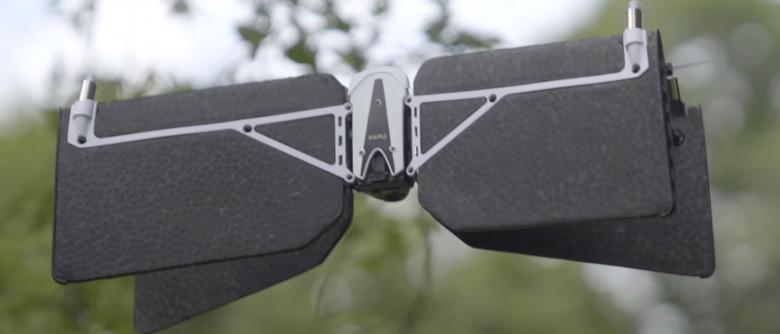 If you're looking to jump into the world of drones but aren't too keen on the hefty up front cost some of them come with, you may want to check out the two new minidrones Parrot has announced. Dubbed the Mambo and the Swing, these two drones offer up some interesting functionality, whether you're looking to do some stunt flying or have some fun.
First up is the Swing, a 2.6-ounce drone that's capable of vertical take off and landing. Though it may look a little bulky as far as minidrones go, there's a reason for that, as it can of switching between its quadcopter and plane modes on the fly. In addition to a maximum speed of up to 18 MPH in plane mode and flight time of up to 8 minutes, the Swing also comes equipped with a camera that is used to both determine its speed and also snap pictures of the ground or the horizon.
The Mambo is similar to the Swing in a few ways, with comparable top speeds and an identical camera, but this one is more of a modular drone. Packed in with the Mambo come two accessories: a cannon and a grabber. The cannon, obviously, can be used to shoot pellets at a range of 6.5 meters, while the grabber can be used to carry items that weigh up to 0.14 ounces.
There will also be an accessory called the "illuminator" available, and it uses two directional LED lamps to provide some overhead light. The illuminator accessory won't be included in the package, with Parrot charging an additional $15 for it as a stand-alone accessory.
You'll be able to squeeze a little more flight time out of the Mambo, with Parrot saying it can stay in the air up to 9 minutes.
Both minidrones can be controlled using the Parrot Flypad, a gamepad-type controller that comes with a smartphone mount. The smartphone mount is important, as Parrot is also launching its FreeFlight Mini app, designed to be compatible with its line of minidrones. The Flypad comes with a price tag of $39, while the Mambo and the Swing come in at $119 and $139 respectively. Both minidrones will be available for purchase sometime next month.