Parat Parasync Dock For 20 iPhones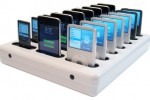 If you're responsible for recharging the iPods and iPhones of a couple of soccer teams then Parat's Parasync is going to save you a whole lot of plugging and unplugging.  The desktop charging station packs a full twenty slots for various combinations of iPod nano 4G, touch, iPhone and classic, but even better can be used to synchronize them all with iTunes.
Video demo after the cut
A single USB connection to your Mac (Parat say PCs have trouble with the sheer number of PMPs, causing USB connection errors) and all twenty of the iPods will show up in iTunes.  After that, you can drag & drop files to them as you would normally.
Unfortunately you'll need to pre-specify which models you'll be using with the Parasync, as Parat seem to use individual dock cradles rather than a universal one.  No word on pricing, so we're expecting the Parasync to be on the expensive side for an iPod dock.
[via Generation MP3]