Parasound Halo JC3 Phono Preamp & Atlantic Technology AT-1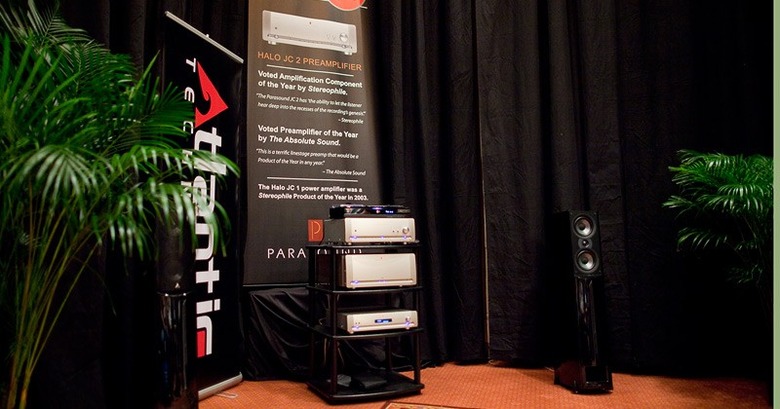 We spent some time auditioning Parasound/Atlantic Technology's high-end stereo channel setup at the Venetian during CES 2010. We didn't go there just for the sake of John Curl's newest Halo-series JC3 Phono Preamp, with its heavy, triple-shielded 2-U chassis, but to check out Atlantic Technology's AT-1 high performance speakers with their potentially revolutionary H-PAS bass technology.
The Atlantic Technology AT-1 is the first production speaker to utilize the H-PAS bass technology developed jointly by the company with Clements/Solus Loudspeakers. The breakthrough is a proprietary acoustic technology capable of delivering extended bass from an enclosure half the size of conventional speaker cabinets: that means Atlantic can use smaller drivers and lower costs.
The AT-1 Loudspeakers at the show floor were driven by Parasound Hola series setup; the system's bottom end moved air one rarely hears from such compact floor-standing speakers: 1.6 cubic feet. They're finished in a glossy black metal-flake, each housing a pair of 5.25-inch drivers and a one-inch low-resonance tweeter with high quality crossover components. Atlantic expect them to begin shipping at the end of Q1 2010 at $1995.
Interestingly for more mainstream users, we were told that H-PAS technology will soon making an impact on compact PC speaker systems to provide a new level of audio performance in gaming and digital entertainment. The company is apparently working closely with PC speaker manufacturers who are licensing the technology, though right now they're not revealing any specific brands or timescales.