ParaShoot HD camera offers wireless connectivity, triple-surpasses Kickstarter goal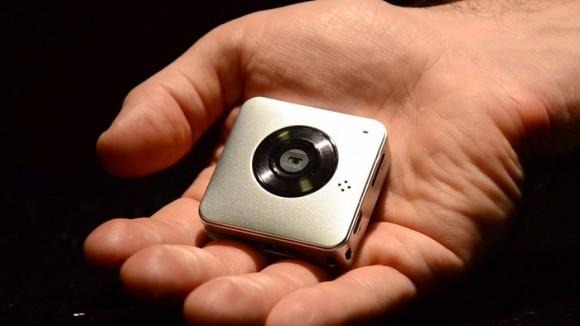 Kickstarter has proven successful for numerous gadgets — quite a few of them being smartwatches — and it would seem the indie funding site's users are also favorable towards small HD cameras. Such is the case for the ParaShoot 2.0 miniature HD camera, which has surpassed its goal of $30,000 more than three times with 28 days left to go.
The camera is smaller than the GoPro, Sony Action Cam, and other similar devices, and is aimed at the everyday user rather than the sky diver and river rafter. The camera is shown in a variety of skins ranging from a guitar wielding skull to butterflies and a panda, with the camera also being shown on a chain around the neck like a fashion accessory. The ParaShoot can be attached to a metal surface (like a fridge) using a magnet mount, and can also be clipped to a belt or screwed onto a tripod.
In addition, certain accessories are unlocked at various goal levels during the Kickstarter, the first of which being a waterproof case and a bike mount (already unlocked). The other will be unlocked at the 200,000 level, also adding a heavy duty battery back into the mix. Finally, there's also a car mount for use on, for example, a dashboard.
As far as specs go, the ParaShoot HD records in 720p at 30 frames per second using H.264 encoding. There's a microphone integrated into the unit, and the lens offers a 100-degree wide-angle field of view. Videos are stored on a microSD card, and charging is achieved via a micro USB cable (also used to access data from a computer).
As mentioned, the camera has 802.11 b/g/n 2.4GHz wireless support, allowing users to connect the camera to their smartphone via the ParaShoot app (available for iOS, Android and Windows Phone 8). This also allows for wirelessly syncing content to the cloud, helping to reduce the odds of content loss.
The Kickstarter was initiated in the middle of last month with a goal of $30,000, and currently sits at a little over $100,000 with 28 days remaining. Those interested can get the camera for a starting pledge of $149 USD.
VIA: GeekoSystem
SOURCE: Kickstarter