Paperlike 13.3-inch E Ink monitor is perfect for working outdoors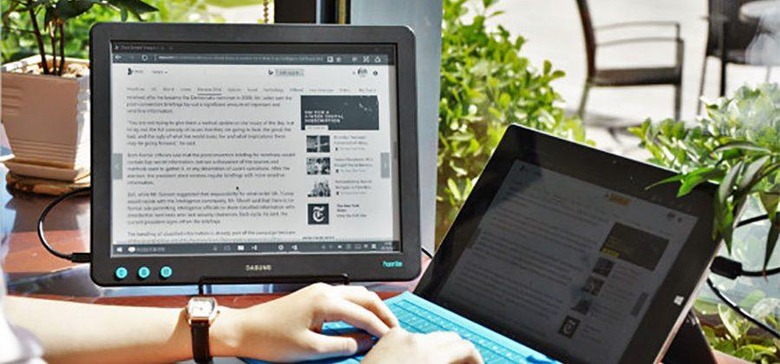 If you spend all day working on a computer you know that if you get into a location where you can see outside, often that means such bad glare on your computer screen that it can be hard to function. A new computer display has landed on Indiegogo that is designed to be portable and specifically made to function in bright outdoor spaces called Paperlike. The monitor is the first E Ink monitor and has a screen that measures 13.3-inches.
It's not going to be ideal for watching video or viewing images, but for surfing the web, typing, or doing general computer work, it will be ideal. The company behind the product is called Dasung and it gets power from the USB port of your computer. That means it needs no battery or powercord making it very portable.
The idea behind the display is to allow users to comfortably work from anywhere no matter how much direct sunlight the location gets. The display supports resolution up to 1600 x 1200 and does a good job of showing images with different image modes. User adjustable grayscale allows you to get the image just as you want and lots of other settings are adjustable as well.
The display is VESA compatible and can be wall mounted and the single micro USB interface powers the screen and delivers video. Portrait and landscape modes are supported. Paperlike is on Indiegogo now seeking $10,000 and has raised over $28,000 so far. If you were hoping for a cheap solution, you may be disappointed with the $799 Indiegogo price. The retail price is listed at $995 making this more expensive than many standard monitors on the market today. Shipping is estimated for August 2016.
SOURCE: Indiegogo