Pantech Vega S5 boasts 5" 720p display, 13MP camera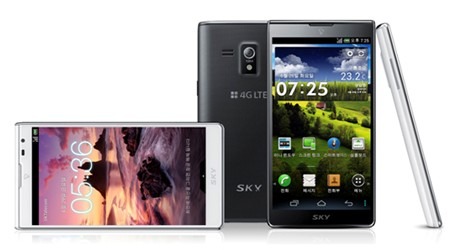 Here's a conundrum for you: how can a phone with a 5-inch display be smaller than one with 4.8-inches? By cutting down on as much bezel as possible, which is exactly what Pantech has done with the Vega S5. IntoMobile has crunched the numbers, and thanks to a "Zero Bezel" technique Pantech has crammed a 5-inch 720p IPS screen into a chassis that occupies less space than Samsung's Galaxy S III. The other specs are nothing to sneeze at either.
The phone will come with a Qualcomm Snapdragon S4 dual-core processor, LTE connectivity, and a 13-megapixel camera. A 2,100mAh battery is also onboard that's rated for up to 11 hours of talk time. Going back to the screen, the company says that 5-inches is the optimal size for Korean hands, with thumbs able to touch any part of the screen thanks to the lack of bezel. Pantech says other devices around the 5-inch mark lack portability, a problem which the company thinks it's solved.
Other features for the phone include zero shutter lag for the camera, continuous autofocus while recording video, and a Mini Window feature that sound similar to Samsung's Pop Up Play, allowing the user to watch video in a small window while using other functions on the phone. Pantech has also included Smart Voice, its own voice recognition feature.
While it might sound like a nice device, the Vega S5 will only be available in South Korea starting from this month. The company hasn't announced any plans to take the handset worldwide either, so you'll have to gaze on it lovingly from afar, or save up some pennies for a grey import that probably won't be able to get online.