Pantech Vega Iron busts out to break down GALAXY S 4 and HTC One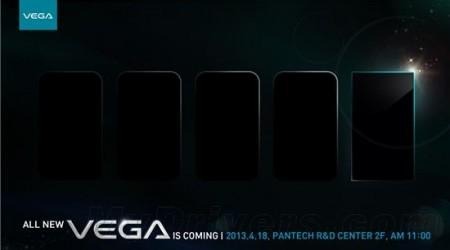 With Pantech on the rise in not only South Korea but here in the USA as well, it's only a little surprising to find them teasing their next-generation smartphone "Vega Iron" with a processor more powerful than the GALAXY S 4. Both the Samsung GALAXY S 4 and the HTC One are coming to the public with the Qualcomm Snapdragon 600, a quad-core processor that's easily one of the most powerful on the market today. To outdo such a move, the Pantech Vega Iron will be pumping up with the Snapdragon 800, a processor we've only seen in the lab before today.
News of the Vega Iron comes from South Korea with word that the smartphone could launch as early as next week. Of course with the announcement coming next week as well, we must take a wild guess and say that it's not the actual store availability that's coming next week, but the announcement only. Along with this tip comes a suggestion that the Vega will not be rounded off as its predecessors have been, but a sharp rectangular visage – maybe even bringing some "Nokia-esque" color casings with it as well.
Under the hood it's suggested that the Pantech Vega Iron will be bringing a massive 5-inch display with 1920 x 1080 pixel resolution. This beast is said to be powered by a rather big 2150mAh battery while it features a 13 megapixel camera on its back. Inside you'll find what some sources suggest will be the Snapdragon 600 while other suggest the Snapdragon 800, both of these being quad-core processors of note, and in either case a 2GB bit of RAM to back it all up.
Have a peek in the timeline below and get pumped up for this release – everybody's joining in on the massive smartphone with powerful processor party! Everyone in the whole entire world, for sure!
[via MyDrivers]