Pantech Breakout Review [Verizon 4G LTE]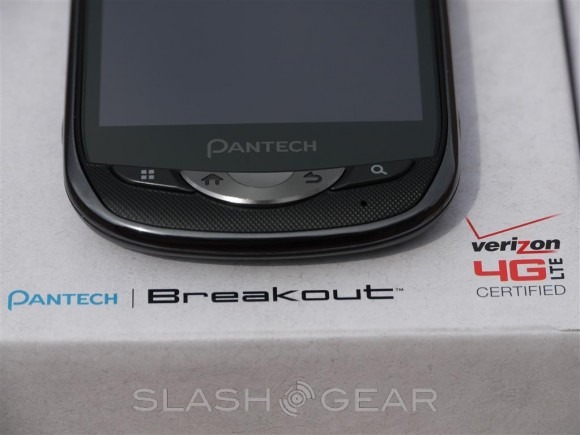 Are you ready to breakout from the norm and try a new smartphone by Pantech offering 4G LTE for a low price? If so you'll want to check out the Pantech Breakout. This brand new Verizon 4G LTE Android smartphone comes packed with everything we love about Android along with some blistering fast speeds and solid performance, all at a price point anyone would like. The Pantech Breakout is just $99 and available right now. Can the first affordable LTE handset meet the needs of new and familiar users alike? Find out with full details and video below.
Hardware
What we have with the Breakout is a pretty unique and well rounded individual. It looks completely different than any Android device thus far, and they've added their own user interface overlay atop Android too but lets breakdown the hardware. We have a 4.0" WVGA 480 x 800 resolution display, a 1.0 GHz Qualcomm processor, 512MB of RAM, then the usual Wi-Fi, Blueooth, and standard sensors. This is all rounded off with a 5 MP camera on the rear (no flash) VGA front for video chatting, and powered by Android 2.3 Gingerbread and Verizon Wireless 4G LTE.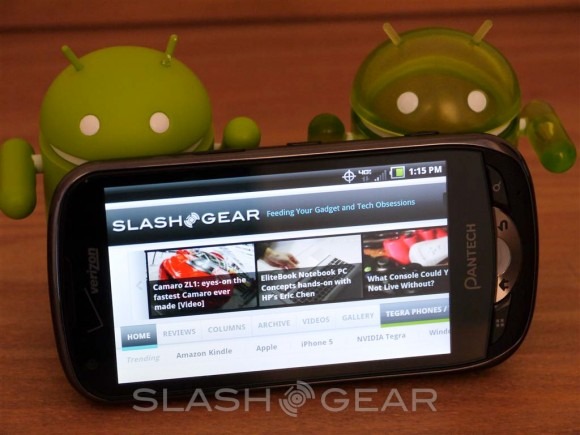 Pantech Breakout 4G LTE hands-on
[vms a8d5fdb372271e980da6]
This might not be the top of the line handset you were thinking about when you decided you'd get an LTE smartphone, but this would have been a top tier smartphone not too long ago, yet it has 4G LTE and is only $99 — a steal if you ask me. As for the hardware around the smartphone we'll start with the front. We have 4 dedicated standard Android hardware buttons. Menu, home, back, and search. The middle has a unique and different brushed aluminum design that looks nice but has an odd texture I'm not sure I like.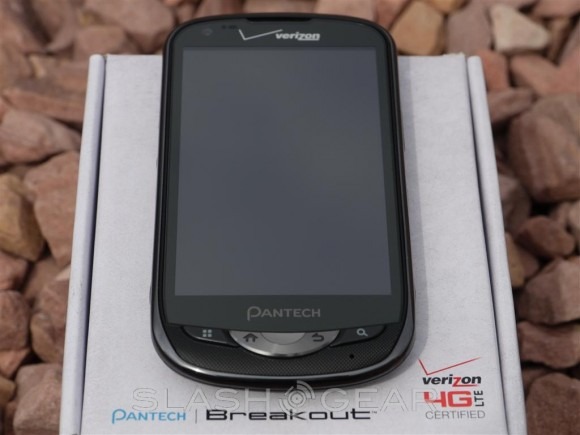 The entire design actually feels really industrial and quite solid. For a $99 dollar entry level priced phone you get excellent build quality and a very solid, nice feeling phone in your hand. On the right side we have a dedicated camera button, an oddly placed power and wake button, then a door that opens up to our micro-USB port for charge and syncing. I must say I'm not a fan of where the power and wake toggle button is. Samsung has a familiar idea but its higher up and out of the way while the Breakout's button is right where I reach to hold the phone while placing calls or picking it up and I've accidentally turned it on or off way too many times already.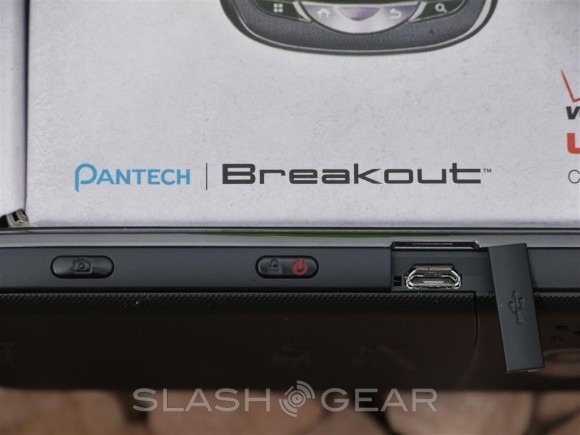 If you follow the aluminum bezel wrapping around the face of the Breakout over to the left side we have a few more dedicated buttons. The 3.5mm headphone back, volume up/down switch, and then a dedicated voice control button for hands-free calling and dialing controlled by Nuance Voice Control. Again this is a nice feature but the button location seems a bit odd and if you hold your phone as I do — your ring finger might toggle it a few times accidentally. I may be a bit critical here but they seem too easy to push if you ask me. A great feature for those that need or want it, I just wish it wasn't so easy to accidentally activate.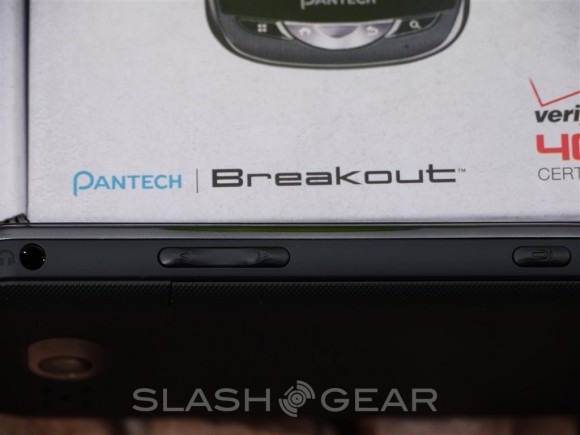 While the hardware is exceptionally great for a phone of this caliber and price, lets move on to the software and 4G LTE shall we?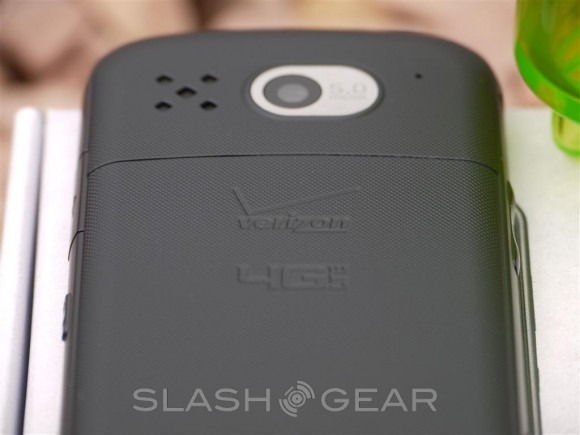 Software
Running on a mildly skinned version of Android 2.3.3 Gingerbread the performance is a decent for the most part. Sliding the lock screen and occasionally while panning through my homescreens it seemed a little slow. Nothing we haven't seen on skinned versions in the past like Moto Blur so this isn't really an issue — I'd just prefer vanilla Android personally. In general the user interface is nicely polished. We have custom widgets, quick toggles for W-fi, Bluetooth, Data and more in the notification drop-down bar. The app tray is very standard but we have a nice carbon fiber looking backdrop in the application tray that seems to fit with the textured back of the device.
Also we have about the average amount of pre-installed bloatware that we've come to expect from Verizon. Amazon Kindle, Blockbuster, City ID, a Doc Viewer and more. One new thing is a converter tool that will convert ft to inches, temperatures and weight types and more. Another reason the phone has an industrial like attitude. Then we have those other standard Verizon apps like Need for Speed, NFL Mobile, Slacker Radio, and then way too many VCAST applications. This is about average for most phones and anything out of big red so we'll take it. For only their second Android smartphone here in the U.S. Pantech has done a nice job with the user interface although a few of the widget icons are a bit generic. Performance was rarely sluggish and overall performed as we'd expect from a single-core 1 GHz Android smartphone.
Performance and Speedtests
Like mentioned above we have a 1.0 GHz single-core processor, 512MB of RAM and 4G LTE. This next set of pictures tests both the device performance with Quadrant, as well as a few speedtest runs to see how Pantech handles the Verizon 4G LTE network. Given the internal specs the Pantech Breakout performs right on track with something like the Nexus One. With a Qualcomm Snapdragon processor and all. We saw Quadrant Advanced sit around 1400 — give or take a few. Again, no dual-core here but for the price this smartphone rocks compared to other similarly priced phones on the market.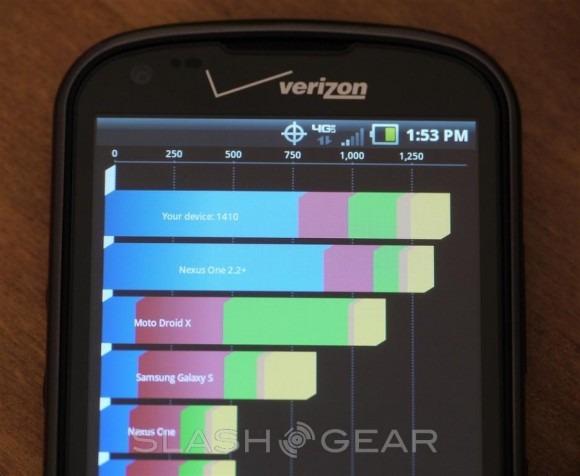 Next, to test the 4G LTE performance we've ran Speedtest, as well as another popular network testing applications called BenchBee speedtest. Take note Benchbee still scores quite well but the only server is located out of country so results may vary. Speedtest.net was accurate like always and we are seeing similar results to the DROID Bionic, peaking around 10,000 kbps on average and sometimes a bit lower.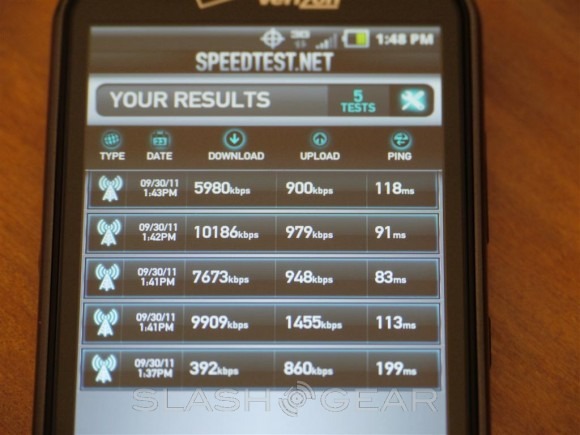 Camera and Battery
Just like the phone we'll keep this short and sweet. The camera found on-board is a 5 megapixel shooter with no LED flash, with VGA up front we all know what to expect from that. Below I have snapped a few test photos both indoors and out to see how well the 5MP lens handles things. Unless otherwise stated the camera is like many we've seen thus far and does decent. For a $99 dollar entry level phone this beats most others in its range, do consider that.
Battery life has been pretty pleasant so far. I know many are wondering what to expect here so lets go over this. All other 4G LTE devices have 4.3" displays, some AMOLED, and then the Bionic is a dual core. The Pantech Breakout has a smaller 4.0" display, a large 1500 mAh battery, and an efficient single-core processor and so far its proved quite nice. I was able to use the Pantech Breakout all day each day I've used it. I made a few phone calls, ran all my benchmarks and speedtests, browsed the web plenty, even played some Need for Speed and tried the Mobile Hotspot service. After an entire day I still had about 25% come morning. It lasted overnight — something most other 4G LTE phones can't even touch.
4G LTE plays a big role in battery life, like most LTE devices we have 3G/4G switching throughout the day that can also hinder battery life as its constantly changing. I never once disabled 4G to test battery life as I felt I didn't need to. For someone coming from a smaller smartphone, or even a dumbphone (feature phone) the Breakout will have better battery life than any other LTE smartphone available.
Wrap-Up
To sum things up in a very understandable and straight shooter way — this phone is nice and it has impressed me. It may not have a simple, thin, and elegant design like the Galaxy S II. Nor does it boast a dual-core processor, and the screen isn't 4.5" inches either. What we do have is a very very solid device that has great build quality, almost every feature we've come to want and expect from our smartphones, a decent sized screen that actually looks great for the price, all powered by 4G LTE and the latest Android Gingerbread. You add all that up and learn it only costs $99 (with a new contract of course) this really is hard to beat.
For those looking to get into the world of Android, try their first 4G LTE smartphone, or just are on a budget the Pantech Breakout will make one great choice. Many might opt for the high priced Bionic at $299, but Pantech is clearly aiming this device toward new buyers or someone that isn't a power-user and they've achieved just that — a phone that fits its price. While this isn't a phone I'd buy for myself (I'm a speed and overclocking junkie) I would recommend this for first time buyers looking for a good experience at an affordable price. If you like what you've seen head over to Verizon Wireless and pick one up for just $99.