Pandora's Thumbprint station mixes up your favorite tracks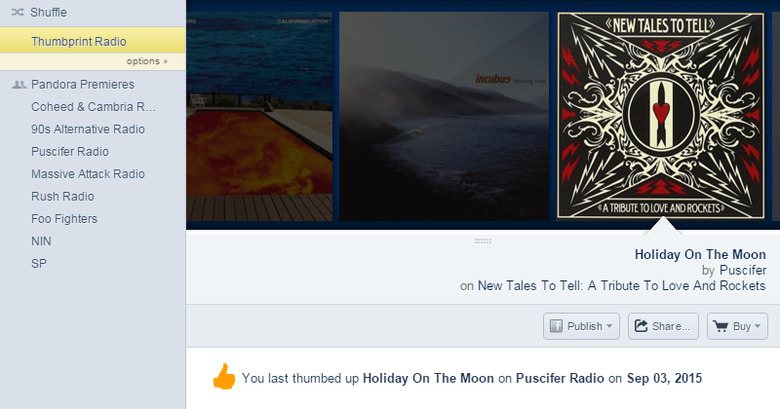 I've been a fan of Pandora's streaming music service since I was first introduced to it somewhere back in 2009. It was a novel idea, only playing music that I wanted to listen to, instead of traditional radio stations where I had to listen to whatever they happened to choose, or making my own playlists, which took forever. The service has struggled to keep up with competitors like Spotify, but they've recently released a new feature that they're hoping will give them a little edge.
If you're not familiar with how Pandora works, you'll make a station based on an artist or a song of your choosing. Pandora then starts playing songs that it thinks you will like. You'll give songs a thumbs-up or thumbs-down, and the station will evolve to fit your particular tastes. Their new Thumbprint Radio station takes everything you've ever given a thumbs-up, and crafts a brand-new station from it.
That may not sound like a big deal, and honestly, for most people, it might not be. I've got some pretty different stations set up, so mixing them all together isn't necessarily something I want to do all the time. However what I think it's really good for is sharing your musical tastes with someone. If you want to give people a taste of what you enjoy, you can just share this station with them. It pulls from every station you've got, playing songs that you've given the thumbs-up to.
One nice part of the new Thumbprint station is that if you do share it with friends, it will keep updating as you give more songs the thumbs-up. As your musical tastes evolve, so will the station you've shared. To get your own Thumbprint station, just click here (assuming you already have a Pandora account).