Pandora Open-Source Console Gets First Video Demo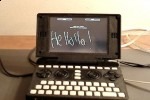 In case your memory for open-source games consoles is a little lacking, that's the first working Pandora handheld we've seen in a user's hands.  The DIY console went up for pre-order last September, and since then has been pretty much off the radar; now we get to see one of the first put together and fully-functional. 
Check out the Pandora video after the cut
The Pandora design was a group-effort, and is based on an ARM® Cortex-A8 600Mhz+ CPU, 430-MHz TMS320C64x+ DSP Core, PowerVR SGX OpenGL 2.0 ES compliant 3D hardware and Linux OS. It has an 800 x 480 4.3-inch touchscreen, WiFi b/g, Bluetooth, USB Host functionality and dual SDHC slots. Controls include dual analogue and digital sticks, a 43 button QWERTY keyboard and a numeric keypad. Battery life is estimated at 10+ hours, and there's an S-Video TV output.
It's still early days for the project – only 3,000 Pandora handhelds were made in the original batch, and they're all sold out – but it's good to see that it hasn't died off.  Final production and delivery is estimated to start later this quarter. 
[via GenerationMP3]