Pandigital targets cheap tableteers with Planet, Nova and Star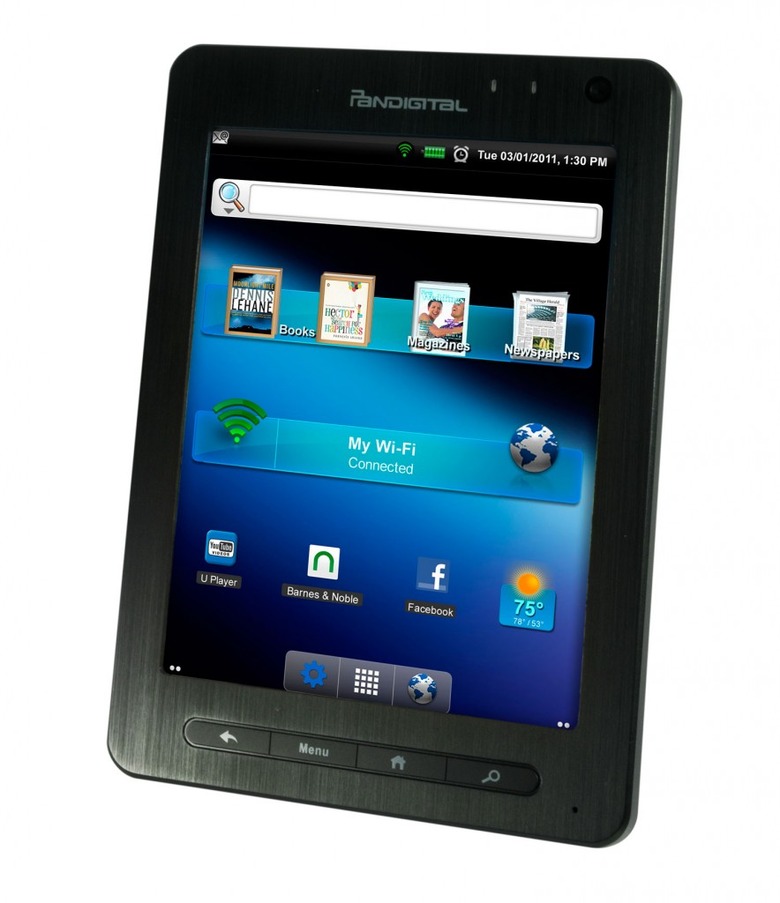 Low-cost Android tablets only occasionally turn out to be as cheerful as they are cheap, but Pandigital is spreading its bet with a new trio of Android-powered models that all slip in at under the $190 mark. The Pandigital Planet, Nova and Star all have 7-inch displays, ARM Cortex A9 processors and rear cameras (the Star throws in a front-facing camera too), along with HDMI output support and Barnes & Noble's eBookstore app preloaded.
As you can probably tell from the image above, we're not looking at Honeycomb here. Instead, Pandigital has thrown various versions of Android for smartphones at the three slates: 2.2 Froyo at the Planet and Star, and 2.3 Gingerbread at the Nova. No Android Market, either, though the GetJar store is preinstalled, along with the U-Player YouTube viewer and the OfficeSuite Viewer. Unfortunately the latter looks to be view-only, which is a shame since thanks to USB On-The-Go support you could plug in a keyboard and mouse and turn each Pandigital tablet into a tiny office setup.
Connectivity is WiFi only – no 3G option – while memory is 2GB on the Planet and Star, and 4GB on the Nova. You'll need the appropriate adapter cable if you want to use the HDMI output, too. Still, the pricing is affordable: $189 for the Pandigital Planet (R70A200), which is available now, while the Pandigital Nova (R70F400/ R70F452) arrives this week for $189. The Pandigital Star (R70B200) will follow on in mid-August for $159.
Pandigital might redeem itself on specs come September, however, with the promise of a fourth new tablet – currently unnamed and undetailed – that's described as "the flagship product."
[via Android Community]