Panasonic update VIERACast Blu-ray decks with Amazon Video On Demand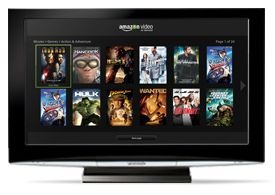 Panasonic are pushing out an update today that will bring Amazon Video On Demand support to owners of their 2009 Blu-ray VIERACast players.  The update will allow users to browse and shop through Amazon's catalog of over 45,000 standard-definition titles and more than 1,000 HD titles, with no monthly subscription and instant playback.   
Since the catalog – and record of the user's purchases – is online, any content bought through a Panasonic Blu-ray player will also be available to view on other Amazon VOD-compatible systems.  That includes PC and Mac playback, Panasonic's VIERACast HDTVs, and A/V equipment from other companies including Sony.
Panasonic added Amazon VOD support to its VieraCast HDTVs back in April.  VIERACast also offers YouTube and Picassa access.
Press Release:
PANASONIC ANNOUNCES AVAILABILITY OF AMAZON VIDEO ON DEMAND ON ITS FULL LINE OF 2009 VIERA CASTTM-ENABLED BLU-RAY DISC PLAYERS

Owners of 2009 Panasonic Blu-ray Disc Players Now Have Access To Amazon Video On Demand's Extensive Selection of Movies & TV Shows, Including Over 1000 High Definition Titles

SECAUCUS, NJ (August 4, 2009) – Panasonic, a leader in High Definition technology and built-in TV web entertainment, announced today that Amazon Video On Demand is now available on its full line of 2009 VIERA CASTTM-enabled Blu-ray Disc players. Current owners of Panasonic's 2009 Blu-ray Disc players automatically received a free software update today and can begin enjoying the service immediately when they register their VIERA CAST Blu-ray Disc Player with Amazon Video On Demand.

Panasonic introduced Amazon Video On Demand on VIERA CAST-enabled Plasma HDTVs in April 2009.

Bringing unique internet-enabled services to Panasonic VIERA Blu-ray owners, Amazon Video On Demand on VIERA CAST, enables customers to:

· Browse and shop for their favorite movies and TV shows from Amazon Video On Demand's selection of more than 45,000 commercial-free titles, including the latest new releases and over 1000 titles in HD.

· Enjoy instant playback streamed to your player, no downloading, no waiting and no subscription fees.

· Access and add to their virtual library of purchases, via Amazon Video On Demand's Your Video Library, and re-watch them on any of Panasonic's critically acclaimed line of VIERA CAST-enabled Blu-ray Disc players or online with a PC, MAC or other compatible device.

For 2009, Panasonic's VIERA CAST feature has been extended to all of its Blu-ray Disc player models, including the DMP-BD60, BD70V, BD80 and the B15* – the world's first and only portable Blu-ray Disc player. An internet connection is required to access VIERA CAST.

"Having our VIERA CAST feature on our line of 2009 Panasonic Blu-ray players means you can now access the best of the web, directly from your living room," said Richard Simone, Panasonic's Entertainment Group Director. "The introduction of Amazon Video On Demand to our VIERA CAST offerings gives every owner of a 2009 Panasonic Blu-ray player access to a vast collection of movies and TV shows, including HD quality new releases, on virtually any digital television. And you can take it on the road with you too with Panasonic's VIERA CAST-enabled, B15 portable Blu-ray Disc player."

In addition to Amazon Video On Demand, VIERA CAST will continue to provide access to YouTube™, Picasa Web Albums™, Bloomberg News and weather information. With VIERA CAST, consumers will have automatic access to additional sites as they are added to the service.

VIERA CAST was widely acknowledged last year for its distinctive internet application, allowing the consumer to view targeted sites on a large HDTV, rather than a small computer screen. VIERA CAST has a built-in Ethernet interface – no external box or PC is required. VIERA CAST is accessed via a single button on the Blu-ray Disc player remote control and there is no fee to use the VIERA CAST functionality.

"The addition in April 2009 of Amazon Video On Demand's premium service to Panasonic VIERA CAST-enabled HDTVs really took the entertainment experience to a whole new level for consumers," said Merwan Mereby, Panasonic's Vice President of New Business Development. "As promised in April, Panasonic is now pleased to deliver Amazon Video On Demand service to owners of our award-winning 2009 line of VIERA CAST-enabled Blu-ray Disc players as well. Combined with the extensive, consumer-generated content VIERA CAST already offers via YouTube and Google Picasa, this is yet another step in the ever-growing value of VIERA CAST for owners of Panasonic HDTVs and Blu-ray players."

"Panasonic and Amazon Video On Demand have built a great customer experience that easily allows customers to shop, purchase or rent from our library of over 45,000 movies & TV shows with no subscription fees," said Bill Carr, Amazon Vice President Music and Video. "Using Panasonic's line of VIERA CAST-enabled Blu-ray players, even more customers can now instantly experience Amazon's compelling HD-quality, new release movies and TV shows from their living room."