Panasonic unveils new Lumix GH2 micro four-thirds camera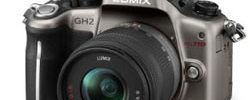 Panasonic has added a new camera to its line of micro four-thirds interchangeable lens cameras called the Lumix GH2. The new digital camera has some really cool features like the ability to take 3D photos when using the new 3D lens and a new cinema mode among other features. The new cinema mode lets the users take video with cinema-style gradation.
The camera also has a variable movie mode where the frame rate can be tweaked to 80%, 160%, 200%, and 3000% for slowing down scenes of speeding them up. The camera also uses touch auto focus where the user can touch the rear LCD and the camera will focus on the spot touched.
The image sensor in the camera is a 16.05MP multi-aspect LIVE MOS sensor and it can shoot bursts at five frames per seconds in full resolution with a mechanical shutter. The rear touch screen is 3-inches and has a resolution of 460K dots. The screen rotates 180-degrees side to side and 270-degrees up and down. The GH2 will come in black or silver colors and will ship in early December. The body only will sell for $899.99, the body with a Lumix G Vario 14-42mm lens will be $999.95, and the body with a Lumix G Vario HD 14-140mm lens will sell for $1499.95.