Panasonic Unveils New HDC-Z10000 Consumer Camcorder That Shoots 2D And 3D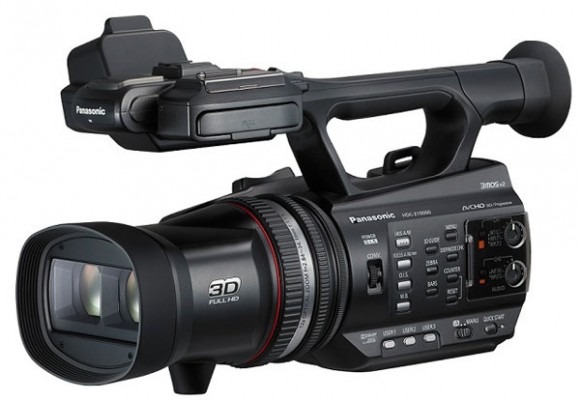 Panasonic has unveiled a new camcorder that looks like something a professional videographer would use. If you want something with a really small design, you might want to look elsewhere. If what you want is a camcorder that can do both 2D and 3D with professional image quality the HDC-Z10000 might be exactly what you need. The camera has a two lens design and has a LCD that will show that 3D recording with no glasses needed.
The 3D LCD on the side is 3.5-inches and has a high 1,152,000-dot resolution and uses parallax barrier tech to provide the glasses-free 3D love. The camera has a double 3MOS system inside for superb color and detail reproduction. Each of the sensors has an effective pixel count of 6.57 MP and are mounted independently right and left inside the camera. This is what gives the 3D capability. The images recorded are full HD. The viewfinder for the camera is a 0.45-inch LVF.
The lenses on the camera are f1.5 and are ideal for shooting in low light conditions. The lenses also include a Nano Surface Coating, which is a first on a Panasonic camcorder. The coating reduces glare for better image quality. The lens is a 10x optical zoom unit in 3D and has 12x optical zoom in 2D mode. In 2D mode, the camera also offers HYBRID OIS to correct handshake and in 3D mode it has POWER OIS. The camera also features integrated mics for recording Dolby Digital 5.1 sound. There are also a pair of XLR inputs with 48-V phantom power for external mics. Video storage is to a SD card with dual slots available for longer recording times. Pricing and availability are unknown at this time.