Panasonic unveils AVCHD Lite capable DCM-TZ-ZS3 and DMC-FT1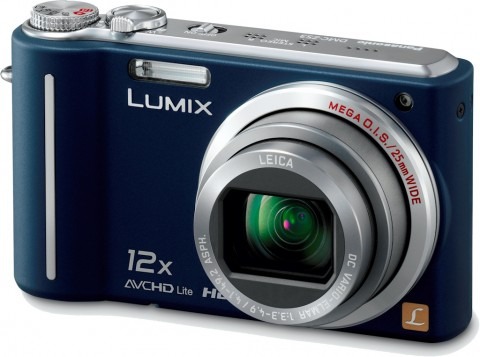 In preparing for the PMA 2009, Panasonic has launched a series of new digital compact cameras, two out of the new Lumix, the DCM-TZ-ZS3 and DCM-TS1 are the first of its class to feature the new AVCHD Lite HD Video Recording Capabilities of MPEG-4 / H.264 AVC video compression standard.
The AVCD Lite video feature increases recoding capacity in HD 720p format and boosts Dolby Stereo high quality audio. Unlike most digicams at its size, both units have a built-in stereo microphone, as feature in a dedicate camcorder, but most impressive of all features is its noise reduction feature to block out background wind buzz and enabling audio sampling at 48khz.
The Panasonic ZS3 boosts 12.1MP image sensor, 3-inch LCD screen, Optical Image Stabilizer, advanced Face Recognition and a 12x optical zoom lens of 25-300mm (35mm equiv.). Its superior optics features a high-quality LEICA DC VARIO ELMAR series zoom lens, constructed from 2 ED lenses, 2 aspherical lenses with 3 aspherical surfaces and a total of 10 optics elements in 8 groups design. Panasonic also packs a step-down ZS1 a smaller 10Mp image sensor, smaller LCD at 2.7-inch, similar big lens but only capable of capturing motion video up to 848x480 resolution without the AVCD Lite video feature.
The TS1, on the other hand, is a rugged version of Lumix with shockproof, waterproof and dustproof digital camera, built to withstand water to a depth of 10 feet, falls from up to 5 feet while operating in freezing cool temperature of -10 degrees Celsius. The rugged Lumix offers most of the advance features like the ZS3, including the same image sensor of 12.1MP, but a smaller 2.7-inch LCD screen and a 4.6x Leica DC Vario-Elmar optical zoom lens at 28-128mm (35mm Equiv).
Both will be available from April at the suggested retail of $399.
DMC-ZS3

Sensor – 10.1 megapixel (effective), 1/2.33" CCD (ZS3); 10.1 megapixel (effective), 1/2.5" CCD (ZS1)
Lens/Zoom – 12x (25-300mm) Leica DC Vario-Elmar, f/3.3-6.3
LCD/Viewfinder – 3.0", 460K-dot TFT LCD (ZS3); 2.7", 230K-dot TFT LCD (ZS1)
Sensitivity – ISO 80-1600 (High Sensitivity mode to ISO 6400)
Shutter Speed – 8-1/2000 seconds
Shooting Modes – Intelligent Auto, Normal Picture, My Scene 1, My Scene 2, Scene, Clipboard, Motion Picture
Scene Presets – Portrait, Soft Skin, Transform, Self-Portrait, Scenery, Panorama Assist, Sports, Night Portrait, Night Scenery, Food, Party, Candle Light, Baby 1, Baby 2, Pet, Sunset, High Sensitivity, Hi-Speed Burst (Image Priority / Speed Priority), Flash Burst, Starry Sky, Fireworks, Beach, Snow, Aerial photo, Pinhole, Film Grain, Underwater
White Balance Settings – Auto, Daylight, Cloudy, Shade, Halogen, User Set
Metering Modes – Intelligent Multi, Center-Weighted, Spot
Focus Modes Face, AF Tracking, Multi, One Point High Speed, One Point
Drive Modes – Normal, Burst, Self Timer
Flash Modes – Auto, Red-Eye Reduction, Forced On, Forced Off
Self Timer Settings- 10 seconds, 2 seconds, Off
Memory Formats – SD, SDHC
Internal Memory- 40 MB
File Formats – JPEG, AVCHD Lite (ZS3), Motion JPEG
Max. Image Size – 3648x2736
Max. Video Size- 1280x720, 30 fps (ZS3); 848x480, 30 fps (ZS1)
Zoom During Video – Yes
Battery – Rechargeable 895 mAh lithium-ion
Connections – USB 2.0, AV output, HDMI, DC input
Additional Features – Mega O.I.S., iA Intelligent Auto mode, Intelligent ISO, Venus Engine HD processing, AF Tracking, face detection, Face Recognition, Intelligent Exposure

DMC- TS1

Sensor- 12.1 megapixel (effective), 1/2.33" CCD
Lens/Zoom – 4.6x (28-128mm) Leica DC Vario-Elmar, f/3.3-5.9
LCD/Viewfinder – 2.7", 230K-dot TFT LCD
Sensitivity – ISO 80-1600 (High Sensitivity mode to ISO 6400)
Shutter Speed – 8-1/2000 seconds
Shooting Modes – Intelligent Auto, Normal Picture, Scene, Beach and Surf, Snow, Sports, Clipboard, Motion Picture
Scene Presets – Portrait, Soft Skin, Transform, Self-Portrait, Scenery, Panorama Assist, Sports, Night Portrait, Night Scenery, Food, Party, Candle Light, Baby 1, Baby 2, Pet, Sunset, High Sensitivity, Hi-Speed Burst (Image Priority / Speed Priority), Flash Burst, Starry Sky, Fireworks, Beach, Snow, Aerial photo, Pinhole, Film Grain, Underwater

White Balance Settings -Auto, Daylight, Cloudy, Shade, Halogen, User Set

Metering Modes – Intelligent Multi
Focus Modes Face, AF Tracking, Multi, One Point, One Point High Speed
Drive Modes – Normal, Burst, Self Timer
Flash Modes – Auto, Red-Eye Reduction, Forced On, Forced Off
Self Timer Settings- 10 seconds, 2 seconds, Off
Memory Formats – SD, SDHC
Internal Memory- 40 MB
File Formats – JPEG, Motion JPEG, AVCHD Lite
Max. Image Size – 4000x3000
Max. Video Size- 1280x720, 30 fps
Zoom During Video – Not Specified
Battery – Rechargeable 940 mAh lithium-ion, 350 shots
Connections – USB 2.0, AV output, DC input
Additional Features – Mega O.I.S., iA Intelligent Auto mode, Intelligent ISO, Venus Engine HD processing, AF Tracking, face detection, Face Recognition, Intelligent Exposure
[via dpreview, DMC-FT1, DMC-TZ-ZS3]
[via imageresources]