Panasonic Toughbook F9: lightest 14-inch notebook & rugged too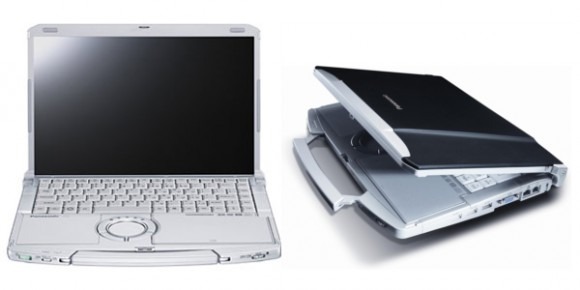 Panasonic have outed their latest rugged notebook, the Toughbook F9, a 14-inch machine that weighs a mere 3.6 pounds; that makes it the industry's lightest 14-inch notebook, despite the extra-sturdy build.  Based around a 2.4GHz Intel Core i5-520M processor with a 320GB hard-drive and optional Qualcomm Gobi WWAN, the F9 boasts up to seven hours runtime.
That's impressive, considering the Toughbook F9 can withstand a drop of 30-inches – about the height of your desk – while turned on and without losing data.  There's also a spill-resistant keyboard, and the casing is made of sturdy magnesium alloy.
Other specs include WiFi a/b/g/n, Bluetooth 2.1+EDR, a DVD burner and 2GB of RAM, upgradable to 6GB.  The Panasonic Toughbook F9 should go on sale from July 1st 2010, priced from $2,899.
Press Release:
PANASONIC INTRODUCES TOUGHBOOK F9 BUSINESS-RUGGED LAPTOP

World's Lightest 14" Class Laptop Delivers Desktop Performance with Intel Core i5 Processor

Secaucus, NJ, June 9, 2010 – Panasonic Solutions Company, provider of collaboration, information-sharing and decision-support solutions for government and commercial enterprises, today introduced the thin-and-light Toughbook F9 business-rugged laptop. The new device weighs in at a mere 3.6 pounds, making it the industry's lightest 14" class laptop. The Toughbook F9 features an Intel® Core™ i5 processor, 320GB HDD, high resolution (1440 x 900) widescreen display, optional Qualcomm Gobi2000™ mobile broadband and an integrated handle. Highly mobile professionals will also benefit from the Toughbook brand's legendary reliability.

Core i5 Performance

The Toughbook F9 includes a standard voltage 2.40GHz Intel Core i5-520M vPro™ processor with Turbo Boost Technology (delivering speeds up to 2.93GHz) and has Intel Anti-theft and vPro technologies to improve hardware-assisted security and manageability capabilities that enhance IT's ability to maintain, manage, discover, heal and protect networked computing assets.

The new device, which delivers up to seven hours of battery life, also features a high resolution (1440 x 900) 14.1" WXGA+ widescreen display with LED backlighting and a DVD multi-drive.

Embedded Mobile Broadband Options

The Toughbook F9, like all Toughbook mobile computers, helps maximize mobile productivity through a variety of embedded wireless technologies. The device combines the latest Intel WiFi chipset (Intel Centrino® Advanced-N 6200 AGN) and Bluetooth® v2.1 +EDR, with an option for WiMAX (4G) or Gobi2000™ (3G) mobile broadband technology from Qualcomm. Gobi2000 simplifies multi-carrier wireless deployments for IT departments and allows a company's mobile workforce improved connectivity options while traveling at home or abroad and adds GPS capabilities for easy integration with mapping software.

"Mobile workforces need the type of desktop-class performance offered by Intel's Core i5 processors to maximize productivity," said Kyp Walls, director of product management, Panasonic Solutions Company. "But performance is useless if your laptop can't survive the bumps, drops and spills experienced by highly mobile professionals. The Toughbook F9 marries a high performance Intel processor with industry-leading light weight, long battery life, mobile connectivity and unrivaled reliability to deliver a best-in-class mobile computing solution."

Business-Rugged Reliability

The new Toughbook® F9 business-rugged notebook successfully survived drops of 30" (just over the typical height of a desk or table) to the base of the unit while operating. Further, using Mil-Spec methodology, the device also survived 26 drops (to every side, corner and face) from 12" to a non-yielding surface.

The unique Panasonic spill-resistant keyboard design protects against liquid spills of nearly 7 ounces (200 cc), and both the lid and base of the device are designed to withstand more than 220 lbs (100 Kg) of compression. In addition, Panasonic's commitment to quality—at both the component and finished goods level—results in a total of more than 500 checks and tests during and after production plus 100% burn-in testing.

Panasonic Toughbook F9: Select Features and Specifications

· Genuine Windows 7® (with XP downgrade option)

· Intel® Core™ i5-520M vPro™ Processor (2.4 GHz with Turbo Boost up to 2.93 GHz)

· 320GB shock-mounted, flex-connect, removable HDD

· 2GB RAM (DDR3-1066MHz), expandable to 6GB

· 14.1" widescreen (1440 x 900) WXGA+ LCD with LED backlighting

· Anti-glare screen treatment

· DVD Super MULTI Drive with Dual Layer Support

· Up to 7 hour battery life

· 3.6lbs

· Business-rugged

o 30" operating drop (to base only)

o 26 sides 12" drop (non-operating)

o 220 lb pressurized vibration

o Magnesium alloy case

o Spill-resistant keyboard (protects against 7 ounces spills)

· Embedded Connectivity

o Optional integrated WWAN / Gobi2000™ mobile broadband

o Optional WiMAX

o Intel® Centrino® Advanced-N 6200 802.11a/b/g/n

o Bluetooth® v2.1 + EDR (class 1)

· Optional Integrated Security Features:

o Fingerprint reader

o SmartCard reader

· 9.9"(L) x 12.8"(W) x 1.0"/1.9"(H) front/rear

Pricing, Availability and Support

The Panasonic Toughbook® F9 will be available in the United States beginning July 1, 2010. The device will be available starting at an estimated street price of $2,899 from authorized Panasonic resellers.

Every Panasonic Toughbook notebook includes a standard three-year limited warranty and free access to U.S.-based phone support for the entire life of the product.

For more information on the Toughbook F9 and other Toughbook mobile computers, go to www.toughbook.com.