Panasonic takeover of Sanyo close to completion, claim sources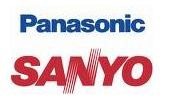 Panasonic's takeover of Sanyo could be days away from a full announcement, according to the latest rumors from sources close to the deal.  While Panasonic would only say that no official statement of the takeover bid had been made, three sources speaking on condition of anonymity have claimed that Panasonic President Fumio Ohtsubo and Sanyo President Seiichiro Sano met last month and agreed, in principle, to the deal. 
Neither price nor timescale have been finalized, the sources continue.  The deal would require Panasonic to buy the preferred shares of the three major investors in Sanyo, Goldman Sachs, Daiwa Securities SMBC and Sumitomo Mitsui Banking Co, who together control around 70-percent of the company.  Recent estimates suggest those shares would be worth around 621 billion yen at current market rates ($6.26bn).
A successful takeover would leave Panasonic as Japan's largest electronics maker, edging ahead of rival Hitachi.  Combining Sanyo and Panasonic revenue projections, together they would have revenues of 11.22 trillion yen, compared to Hitachi's 10.9 trillion yen.