Panasonic Strada F-Class satnav with remote home automation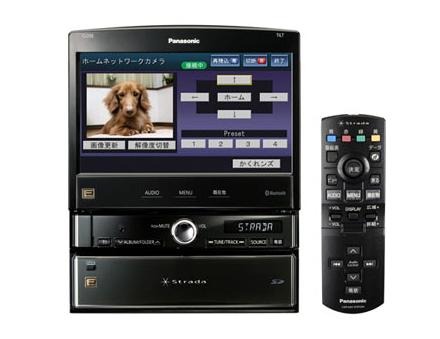 Panasonic's latest Strada F-Class car navigation systems are yet another reason to lament not living in Japan.  The CN-HX1000D and CN-HW1000D borrow the VIERA label from the company's premium LCD TVs, though scaled down to just 7-inches, and throw in a DVD player, GPS, hard-drive, iPod link, Bluetooth and a 1-Seg digital TV tuner.  Most impressive, though, is Panasonic's "From Home to Car" system: that uses a Bluetooth cellphone to link up with a networked home.
The (optional) service allow drivers to remotely operate lighting and air conditioners, and view still images captured with a network camera.  You can also record TV programs by controlling a Panasonic DIGA DVD recorder from the car.  Impressive stuff, though not something to be playing with when cruising down the freeway; save it for the traffic lights. 
Differing by the dashboard configuration – in-dash and 2-DIN – the two F-Class models will be released in mid-June.  Price is ¥355,000 ($3,500), but don't expect to see them outside of Japan, sadly.
[via Gear Live]