Panasonic SC-NT10 Bluetooth speaker brings boomin' bass to the outdoor space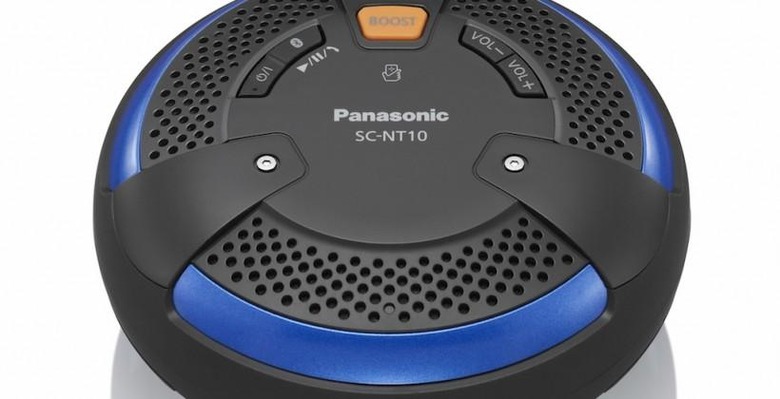 Bluetooth speakers a dime a dozen these day, but more and more companies are infiltrating the market in order to offer a similar product that outperforms the competition. Panasonic thinks they have a speaker system that's up for the challenge, and they've announced the SC-NT10 Portable Wireless Speaker System with Bluetooth.
Panasonic is touting the SC-NT10 speakers as a rough-n-tough option for those who want a wireless speaker for their music, but also want the opportunity to be able to throw around and endure a beating every now and then, such as when you're out camping, fishing, hiking, etc. Essentially, it's being marketed as a speaker for those who love the outdoors.
Panasonic has also applied many different "proofs" to the speaker, including the ability to withstand dust, shock, freezing temperatures, and even the scorching heat when you're out trekking the wilderness on a hot summer day. The speaker is also "splash proof," so you'll be able to set it down by the pool and listen to your tunes while you go for a dip.
Panasonic touts many different qualities with the speaker system, including the ability to amplify low-frequency sounds, eliminate distortion, reproduce bass sounds at low frequencies, and boost midrange sounds so they aren't lost in surrounding ambient noise. We reckon these feature might help a little with the sound, but smaller Bluetooth speakers usually never have the quality of sound that you'd get with a good set of shelf speakers.
However, Bluetooth is pretty awesome, and the SC-NT10 comes with NFC to make pairing a heck of alot easier, meaning that you won't need to search for a device and connect it to it on your phone. Instead, you just touch your phone to the speaker and the NFC does the rest. The SC-NT10 will be arriving later in the fall for $99, and will be available in black with either blue or orange trim.