Panasonic outs 3D lens for micro four-thirds Lumix G cameras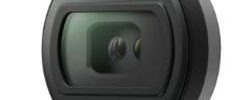 I just mentioned the new Lumix GH2 digital camera that Panasonic unveiled today. I mentioned that there was a new 3D lens that was compatible with that camera and the lens is compatible with the entire series of G cameras from Panasonic. The new lens is called the H-FT012 and it has two optical systems in one thin and compact lens.
The lens is a 12.5mm/F12 until that puts those two optical elements within the diameter of the lens. Panasonic says that its new lens system allows the user to shoot images with no lag between the right and left images, which allows the user to take 3D photos of moving objects. The images taken with the lens can be viewed on Panasonic 3D Viera TVs.
The photos can also be viewed via Panasonic 3D Blu-ray players as well. It is impressive that the lens is so small and compact, other 3D lenses we have seen are very large and bulky. The lens will sell for $249.99 and will ship in November along with a new 14mm/F2.5 lens at $399.95 and a Vario 100-300mm lens at $599.99.