Panasonic offers new firmware update for G Series camera interchangeable lenses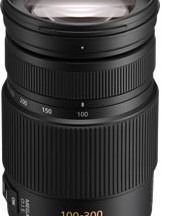 Panasonic has announced that it has a new firmware update for the Lumix G Series interchangeable lenses. Read that carefully, this is a firmware update for the lenses, not the digital cameras themselves. The update changes the lenses to allow them to be HD quality lenses for shooting high quality HD video. The firmware update covers seven different lenses and gives them all better performance.
The update helps the lenses to perform better in tracking focus for video recording, silent auto focus, and exposure control. The stability of the optical image stabilizer is also enhanced for video recording. The lenses that are being updated will fit the entire 2011 line of G series digital cameras including the LUMIX GF3, LUMIX GF2, LUMIX GH2 and LUMIX G3.
The new firmware brings the lenses to version 1.1 and supports the following lenses:
LUMIX G 14mm / F2.5 ASPH. (H-H014)
LUMIX G VARIO 14-42mm / F3.5-5.6 ASPH. / MEGA O.I.S. (H-FS014042)
LUMIX G FISHEYE 8mm / F3.5 (H-F008)
LUMIX G VARIO 100-300mm / F4.0-5.6 / MEGA O.I.S. (H-FS100300)
LUMIX G VARIO 7-14mm / F4.0 ASPH. (H-F007014)
LUMIX G VARIO 14-45mm / F3.5-5.6 ASPH. / MEGA O.I.S. (H-FS014045)
LUMIX G VARIO 45-200mm / F4.0-5.6 / MEGA O.I.S. (H-FS045200)