Panasonic MW-20 Digital Photo Frame Doubles As iPhone Speaker-Dock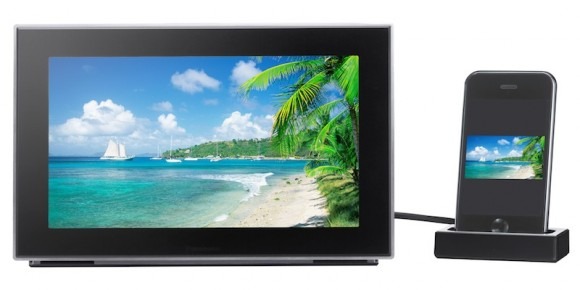 Perhaps we shouldn't be surprised; Panasonic's latest digital photo frame has sprouted an iPhone dock, allowing you to not only display images stored on its 2GB of internal storage but any pictures on the Apple smartphone.  The Panasonic MW-20 has a 9-inch LCD display on an adjustable hinge, and also works as a speaker-dock thanks to its 5.6-mm Super Slim Semi Dome Speaker and sound diffuser.
The display adjusts its backlighting according to the ambient conditions, and it'll obviously recharge your iPhone (or, indeed, your iPod touch) while it's docked.  There's also an SD card slot and support for Panasonic's LUMIX Scene Mode Playback which, if you're shooting with a compatible camera from the company, can automatically pull together photos shot in the various different camera modes (e.g. nighttime, sports, etc.).
You can also choose to show a clock, calendar or other screensavers; in fact the only thing really missing is WiFi and/or 3G, and it's a shame you can't tether the phone and use its connection like with the Transgear model we wrote about back in 2009.  The Panasonic MW-20 will go on sale in late November 2010, priced at $249.95.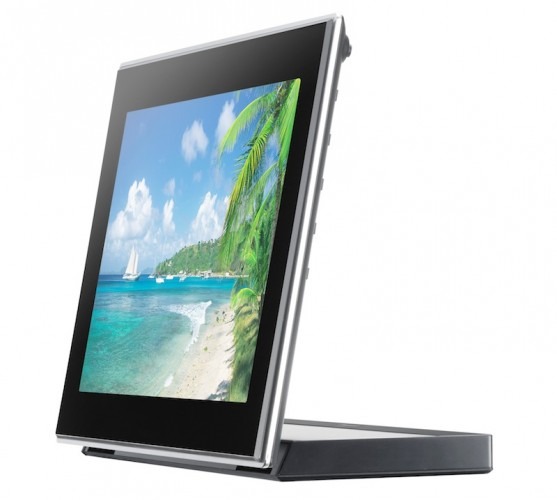 Press Release:
PANASONIC ANNOUNCES DIGITAL PHOTO FRAME – COMPLETE WITH STEREO SOUND SYSTEM FOR PLAYING PHOTOS MUSIC AND VIDEOS WITH EXCEPTIONAL QUALITY

New Panasonic MW-20 is a Versatile and Stylish Multimedia System,

Compatible with iPod Touch® and iPhone® for Convenient Playback

SECAUCUS, NJ (October 4, 2010) – Panasonic today announced the MW-20, a digital photo frame that doubles as a stereo sound system, complete with iPod Touch® and iPhone® compatibility – using the supplied cradle to display photos and play music stored on the popular mobile devices is easy and convenient. The MW-20, a slim multimedia system, also charges the iPod Touch/iPhone while it is connected to the cradle.

The Panasonic MW-20 can play back videos and photos on its large, high-resolution 9-inch screen, while incorporating advanced audio technology to provide superb sound quality.

Below the screen, there is a 5.6-mm Super Slim Semi Dome Speaker and a diffuser that optimizes the sound. In addition, the built-in DSP (Digital Signal Processor) adjusts the audio signal to suit the audio characteristics of this speaker system.

"The Panasonic MW-20 has a stylish and slim design that will complement any home décor and given its versatility to display photos, videos, play music and even charge an iPhone – we think this will be a welcomed addition this holiday season," said David Fisher, Product Manager, Imaging, Panasonic Consumer Electronics Company. "Beyond its design and versatility, the MW-20 is also a powerful gadget – with exceptional sound quality to listen to music and a large nine-inch screen to view digital photos and videos."

The MW-20 has an Adjustable Angle Display1 system that allows the angle to be changed to suit the viewing direction. With the supplied fixture, the MW-20 can be positioned in landscape orientation or hung on a wall. The MW-20 can display photos shot with a digital still camera by inserting an SD Memory Card into its slot. The MW-20 has 2GB of built-in memory for additional storage. The MW-20 features the LUMIX Scene Mode Playback function, which enables users to play back selected groups of photos shot with a Panasonic LUMIX digital camera using the iA Intelligent Scene Selector mode (Night Scenery, Portrait, Scenery, etc.). The MW-20 features 15 different display patterns to show a calendar, clock, photo – whichever combination the user prefers.

The MW-20 features an environmentally-conscious power-saving feature, with a luminance sensor that automatically adjusts the brightness of the screen according to the room lighting. For instance, when a room is dark, the MW-20 automatically shuts off. The Panasonic MW-20 will be available in late-November 2010 with a suggested retail price of $249.95. For more information, visit www.panasonic.com.